A virtual baby shower scavenger hunt is a fun and exciting game that will help bring your family and friends together during these crazy times. Whether it's a "seek and find" or "clue based" scavenger hunt, there's absolutely something for everyone.
So if you've been scouring the internet for virtual baby shower games and virtual activities, I'd highly recommend adding this to your list.
I know throwing a party is no easy task, but now it is even more important than ever to find ways to connect with loved ones and celebrate life!
Since we are all trying to keep some form of social distancing, you can enjoy this game together on the computer using Zoom or Google Meet.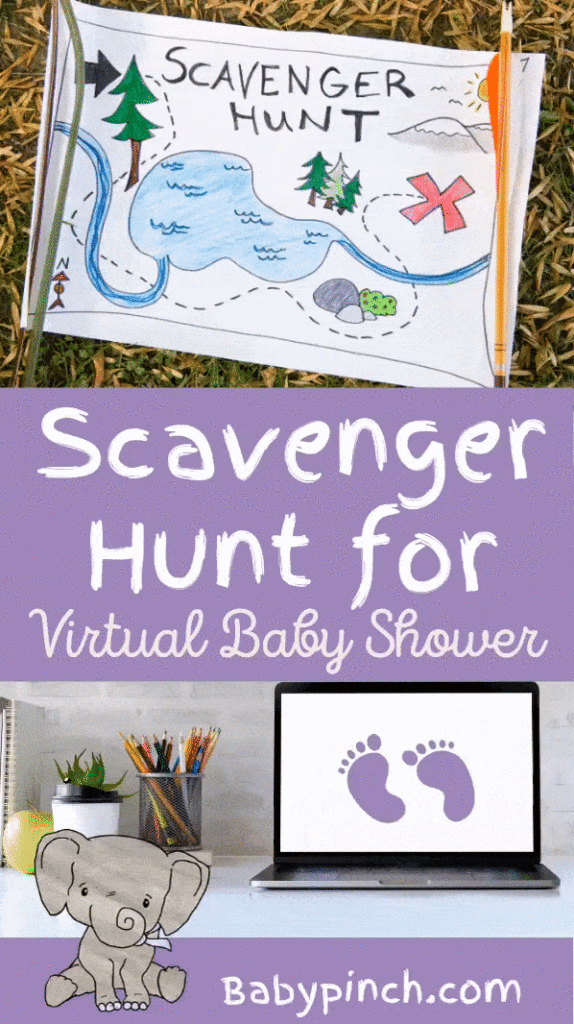 What is a Virtual Scavenger Hunt?
If you haven't hosted an online party before, it can feel a little bit overwhelming, so I'm going to break this down into easy-to-follow steps; In the end, it will all be worth it.
Just like a classic scavenger hunt, the object of the game is to have the players seek and find items defined by or suggested by clues as they are revealed by the organizer. Only, in this version guests will remain in their homes and compete against each other over the computer using a platform like Zoom or Google Meet.
You will designate one person to act as the moderator and score-keeper; they will read out the clue or say an item on the list while guests go searching for it and show it on their screen before the time is up.
Keep reading for all the fine details, how to score the game and a free printable scavenger hunt that you may use at your baby shower. You will be surprised to see how versatile this is, you can even change it up to use as a birthday activity or as a fun indoor activity for your family.
The Goal of the Game
Of course the main purpose of this game is to have fun and enjoy a good competition with your fellow players.
As a bonus, the winner(s) get to walk away with a nifty gift or prize.
You have the option of grouping guests into teams, families, or playing as individuals. Each of the questions are kept secret until they are called.
How is This Virtual Game Scored?
The moderator keeps track of the score for everyone and notes each time an item is found and shown on the screen. The person or team that collect the most points wins a prize.
Since this person is the only one with the score in hand, it helps to check in frequently by showing the totals on-screen to let the other players know where they are at.
You may decide the best way you'd like to score the game depending on how many guests you have.
Variation 1:
Everyone who beats the clock and successfully completes the round gets one point.
You'll notice the scores will follow a similar track throughout the game and you may end up with a tie.
One of the benefits of doing it this way is you can have your guests keep their own score.
Variation 2:
Stagger the amount of points based on who completes a task first, second and third.
For example, you may award 3 points to the player who completes the round first, with the second player winning 2 points, and the rest winning 1 point.
If you have a very large group, this method may become tediuos for keeping track of the scores.
Variation 3:
Winner takes all. In this scenario, only one person or team wins the point by bringing back an eligible item and showing it to the moderator before everyone else does (within the time limit.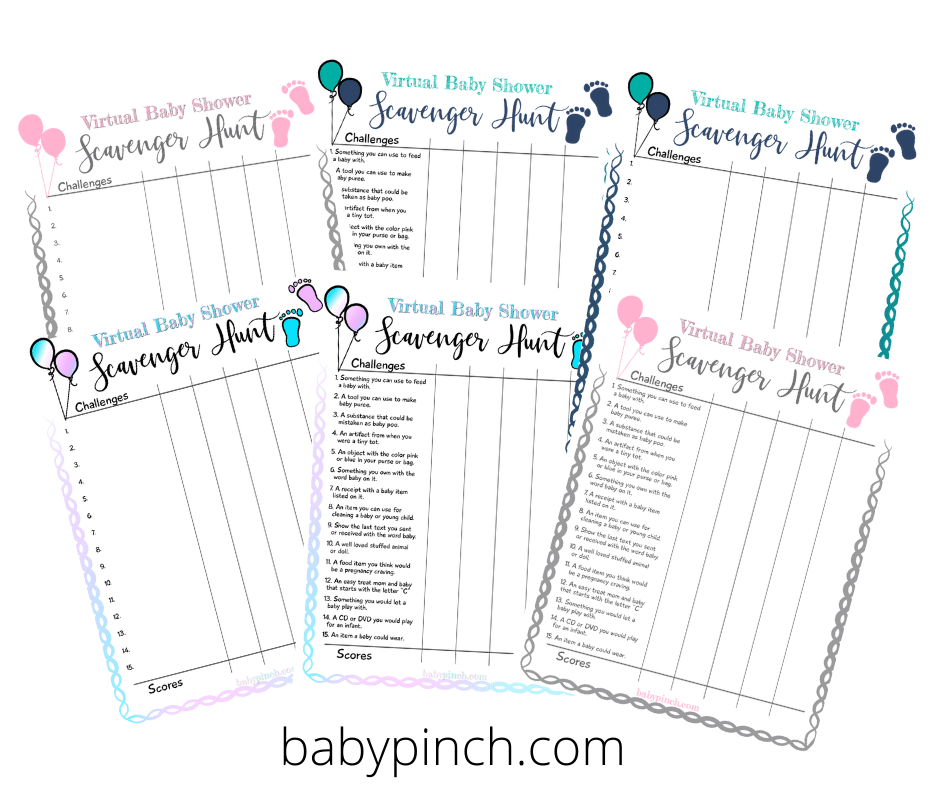 3 Easy Steps for Hosting a Baby Shower Scavenger Hunt
Getting everything started is surprisingly easy. You really only need to know these four steps.
Step One:
You will need to send out some cute invitations [<– Affiliate Link] to all your guests. Sure, you can make it personal and send physical invitation requesting their presence over Zoom, with the date and time to RSVP.
However, it would be even easier to send a virtual invitation by email. That means less time and hassle for the already busy expectant mom or baby shower host.
You can find some great free invitations on sites like evite or Shutterfly. If you need someone to personalize it for you, there are tons of lovely Etsy shops where you can find the perfect design for you.
Step Two:
Set up a stash of prizes for the winners.
Some great prizes may include baby-themed gifts like these bamboo baby spoons from my shop, nursing mother's teething necklaces, on demand video from Amazon Prime, or Etsy gift cards.
At the end of the game, you can wow enjoy announcing the winner and revealing the fun prize you have picked out for them.
Step Three:
Print out the moderator's list. You may decide to print out more than one copy in case you plan to have a separate screen just for showing the updated score. At the bottom of this post, I'll be sharing a printable scavenger hunt, perfect for any baby shower.
Step Four:
Start the call and get everyone connected. Take a moment to do a sound check to make sure everyone is getting a clear reception. Then get the game rolling.
Virtual Game Rules to Keep in Mind
So far, you can see this is pretty straight forward, right? Just a few more details to go over before beginning the game, to help guests understand what to expect.
Players are not allowed to use their phone to google something as a submission. For example, googling a picture of a baseball hat instead of physically going in search of that item.
They must leave their active device (that they are using for the scavenger hunt) in its place throughout the challenge.
There must be a time limit, i.e. 1 minute, for each round to help keep the activity moving. You don't want to be going at this for more than an hour.
You cannot use the same item for more than one round. For example, if you have a DVD one pregnancy, you can't use it as both a DVD and a pregnancy item.
Effort counts! If you, as the moderator, see they gave it their all, be flexible and have fun with the scoring!
So there you have it, how to make a virtual baby shower scavenger hunt. You may use my free printable scavenger hunt as an example to inspire your own, or go make it easier on yourself and enjoy the work already done for you.
Simply add your email to our newsletter, where I will just slightly torment you with helpful parenting tips and adorable baby shower ideas and printable activities on occasion. You can totally opt out at any time, I won't even give you mommy guilt for it.
Have a great time. I mean it!
Even though we are all glad to have a way to connect with loved ones at home while staying safe, playing a virtual baby shower scavenger hunt would be fun to do for any occasion.
If you want to get even more creative and make yourself a rhyming clue based treasure hunt, you can use my free printable game (I've included a blank version in three different colors) and use this guide as another resource.
It's so versatile, you can use this as a way to spend time with family members who live far away, or to create an inclusive atmosphere for those that are unable to travel.
Let me know your thoughts and how you are spending your time in this new normal at home? Leave me a comment below.