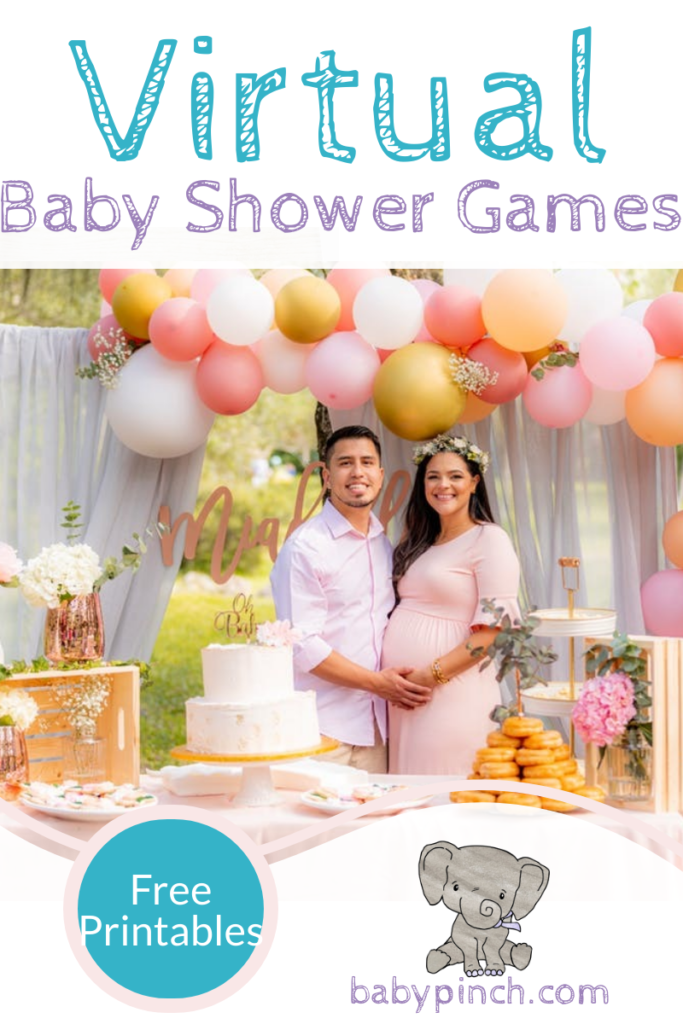 Your loved ones may be spread out across the country or your stuck at home due to the covid-19 pandemic and social distancing, but that doesn't mean you can't throw an amazing party with exciting virtual baby shower games.
Whether you've decided to use zoom, Facebook or even email, there are so many wonderful baby shower games you can host remotely to share tons of laughs and feel connected with your favorite people. I honestly cannot think of any negative thing to say about virtual baby shower games, except that it may be hard to narrow it down to three or four choices.
Below, I've outlined some amazing virtual baby shower games you can use at your party. Towards the end of this article, I'll give you some practical logistical tips on how to put everything together.
Name that Baby!
Create a list with the up to 20 of the most popular baby names from the year you (the mom-to-be) were born. Whoever gets closest to guessing the top 10 names wins.
Late Night Diapers
This is a super fun activity that the mom and dad to-be will enjoy long after the baby shower ends. Here you can ask your friends and family to write funny messages on 2-3 diapers and mail them back to you. These are a great way to offer humor or encouragement to the new parents when they are up late changing diapers. You may or may not choose to read the messages out loud to the group.
Guess How Many
Fill a jar with your favorite candy, like jellybeans or a theme-based item then post a picture of it. See who gets closes to guessing the correct amount to win a prize. It helps to add an object in the photo for size perspective, like a phone or spoon.
How Big is Her Belly?
You will have a lot of laughs with this virtual game. Have the mom-to-be get in front of the camera and ask everyone to guess how big her belly is. At least no one is touching her belly. Win-win!
Dirty Diaper Game
Get 5 to 10 different candy bars and mush them up inside diapers. Make sure to label or number each one and create a list of the candy bars used. Take a picture or video of the specimens and challenge your guests to identify which candy is in each diaper.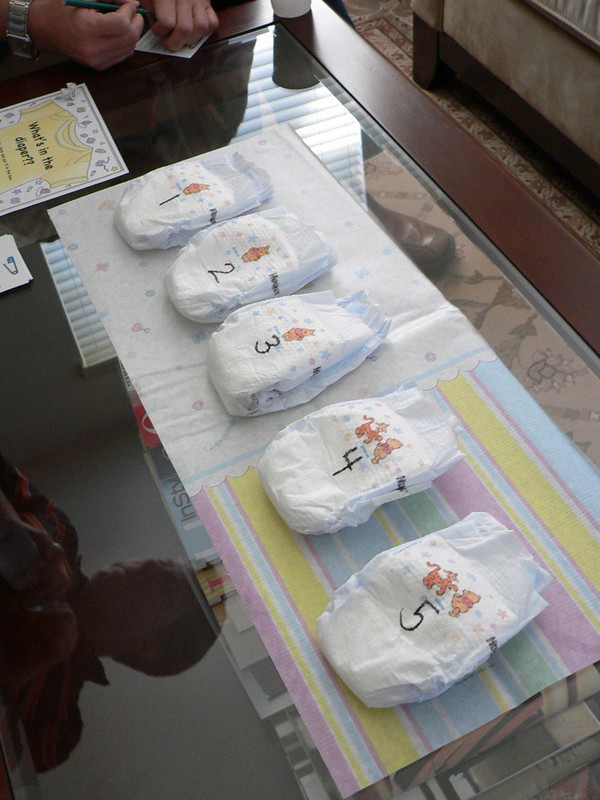 Photo Mash Up
A photo mash up is a hilarious virtual baby shower activity to get your guests rolling with laughter. You can ask your guests to submit a current picture of their face, then digitally crop each face into horizontal strips for the Head, Eyes, Nose, Mouth, and chin. Deposit all the pieces into a Dropbox or Google Drive file and give everyone at the party access.
From there, everyone uses the parts to create new silly faces that are all mixed up. You can use Canva.com or a paint program on your computer to do this. You can ask everyone to vote on the funniest or ugliest face, or just create a funny slideshow to enjoy at the party.
Baby's First ABC Book (and Guestbook)
The baby's first ABC Book is a creative coloring activity that you and your whole party can work together on to create a baby keepsake. Have each guests color and sign their favorite letter page which you will then compile into a cute guest book after the baby shower has ended.
During the live event, you could ask your guests to post a picture of their finished coloring page. You can even make it into a coloring contest and have everyone vote on their favorites.
You can find my Signature ABC Book here, and the special edition Woodland ABC Book here. I also offer these printed and shipped and everything includes free personalization.
Online Scavenger Hunt
Send your guests on an online scavenger hunt. Write down several cute baby shower riddles or puzzles hinting at what the items are. Your guests will then look online for pictures that represent what they think are the correct answers and copy and paste them into a word document.
The possibilities here are endless. If you want to learn more about creating a Baby Shower Scavenger Hunt with Zoom, I've created a step-by-step tutorial with a free printable game that you can use for boys, girls or gender neutral events.
You can really personalize this for the mom-to-be, and make the scavenger hunt all about her. For example, you can make this into a "how well do you know mommy" game where the guests search for past facebook pics with the answers to her clues.
Baby Shower Bingo
Everyone fills in their blank Bingo cards with the presents they think the mom-to-be will get. Whoever calls "BINGO" first, wins. If you are on Facebook, Google Hangouts, Zoom etc.. the winner can write "Bingo" in the chat and send a snapshot of their winning board. I created these 5 free printable baby shower games just for you. It includes: Animal Baby Match, Bingo, Predictions and Advice, and Dirty Diaper Game.
Predictions and Advice
This is a classic beloved game that has been super popular. This is an activity where guests fill in questions like:
Will it be a boy or girl?
Who will the baby most resemble?
What will the date/time/place of birth be?
Then it includes space for your guests to free-write all their words of wisdom and advice for the new parents.
These can be printed out and mailed back to you later, or you can have them fill out the information online using social media or even google forms. Later on, you can have these printed out and put it into a baby shower scrapbook.
What's In your Purse
This is another fun printable game that's easy to play virtually. It would be a lot of fun to watch everyone's reactions live on a shared screen while they goes through their purses to find and score the items listed on the game. Whoever gets the most points win a prize. Example items include nail clippers, a $50 bill, lotion, sunglasses, etc.
Photo Booth
Let's not forget, you want to have lots of fun pictures to look back on fondly after the baby shower. Going virtual doesn't mean you have to be deprived! Everyone can easily take silly photo booth selfies with their phone and use fun virtual props as well.
Just search for "photo booth app" to find a bunch of great options. Then ask you friends to drop their favorite funny shots into your shared Google Drive folder so you can use it in your scrapbook or create an online photo gallery on Facebook etc.
How to Set Up Your Virtual Baby Shower Games (in a nutshell)
The first thing you need to decide is where you want to host your virtual baby shower. Luckily you have tons of options to choose from:
Facebook LIve
Skype
Zoom
YouTube
Email
Google Hangouts
Numerous phone apps
Web Baby Shower
Instagram
Snail Mail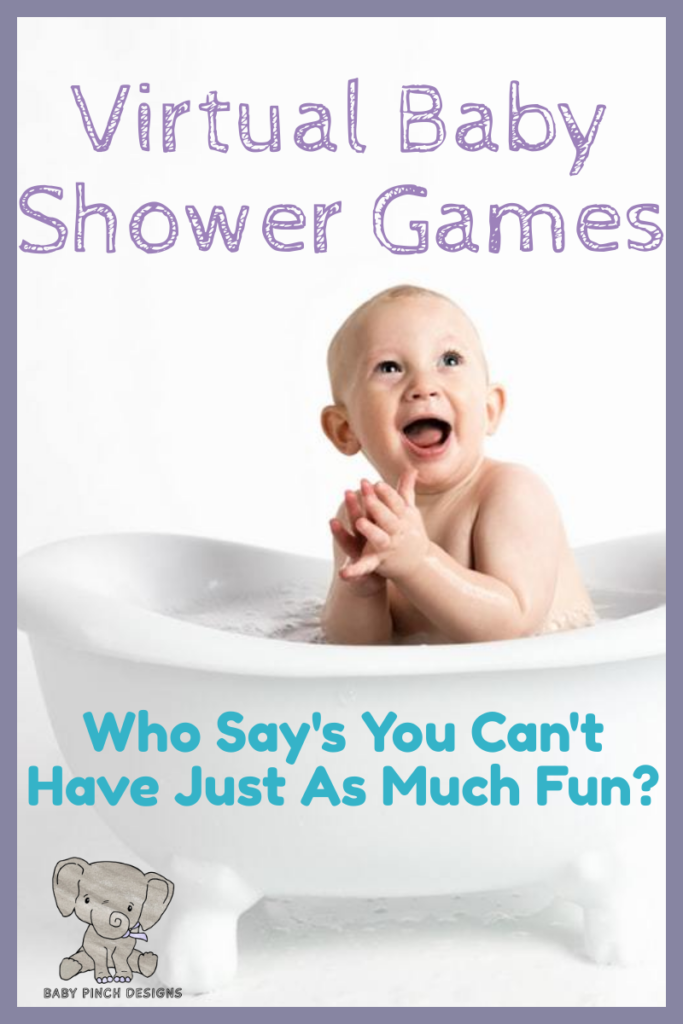 A virtual party is super flexible, so you can have it last however long you want and let people drop in to participate when convenient for them. I'd also recommend setting up an HDMI from your computer to a TV screen so that it's easier for everyone at home to watch the event.
Organize the order of events
After deciding on your favorite theme, games, and decorations, simply make a list of activities and estimated times like you normally would but one that you will be shared with all your guests. They will appreciate knowing what to expect so that everyone is ready with what they need to join in all the fun.
Preparing Virtual Baby Shower Games
Depending on which games you've decided to include in your party, the first step is making sure everyone has what they need before the party begins. You can either print out the schedule and all the games ahead and mail it to your guests, or you can send everyone the digital PDFs or JPGs and request that they print it out for themselves. I'd recommend storing and sharing everything in Google Drive to keep things organized in one place.
Announcing the Winners
You may be wondering about the logistics of hosting these games. The main thing you want to do is decide how you want your guests to submit answers and when you will announce the winners. You have to decide if there is a deadline for submissions and schedule a time when you'll announce the winders. Prizes and favors can be mailed out to your guests, or it can be a cash prize via PayPal or gift card.
Are You Getting Excited Yet?
You see, having an online baby shower can be just as fun, if not more so, than a traditional real life party. Especially since they are budget friendly, inclusive of distant friends and relatives and you can make them last as long as you want. For example, it can be a week-long event where everyone can drop in and participate when they want.
I hope you were inspired by these fun virtual baby shower games and activities. I would love to know what your favorite ideas are or if you think I should add something to this list. Just drop me a comment below to add to the conversation.