Why Ask for Books Instead of Cards at My Baby Shower?
Adding an insert with sayings for books instead of cards is a perfect element to add to your baby shower invitation. It's an easy, natural and a wonderful addition that will personalize this exciting time in their lives!
This is especially true if you've chosen a book-theme for your baby shower. And it's likely the main reason you are here, reading this article, is because you need help composing the perfect note.
It's also worth mentioning, there are other benefits to getting books instead of cards.
First of all, how often do you actually keep the card once the gift is opened? Probably not very often. In fact, according to the Greeting Card Association, Americans throw away about 6 billion greeting cards every year. 6 BILLION! That's a lot of waste.
Especially considering our concerns about climate change, replacing the card with a recycled book is one small but important step towards making a positive change. Imagine if a fraction of those greeting cards were never sent? Why not go with digital cards instead?
But I digress..
Additional benefits of requesting books in-lieu of cards
Amazingly, someone came up with this clever idea and started this modern trend of requesting books in-lieu of paper cards. I absolutely love it when people think up new and thoughtful ideas for their baby showers.
Firstly, books are so much more practical and they last longer. Also, they can be passed down as a family keepsake. What's not to love about that?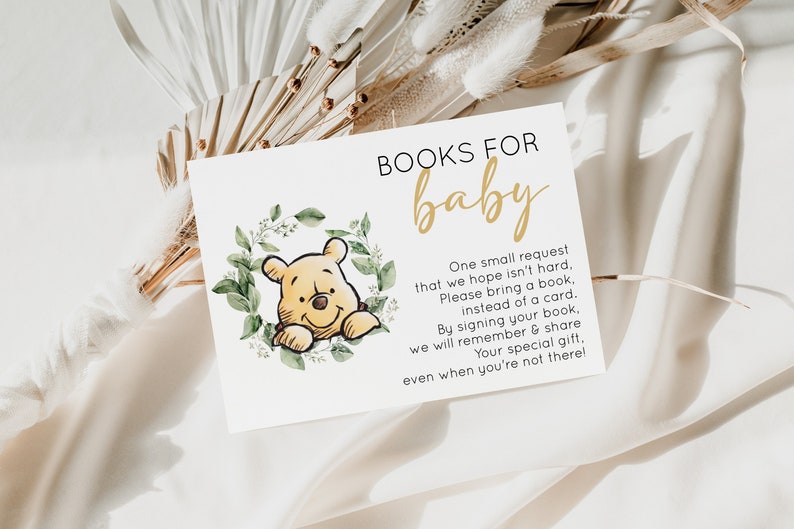 Secondly, books are so much more personal. You can even write a heartfelt message inside the cover, just like with a card!
A book themed or library themed baby shower is a quick and easy way to build your child's home library. These baby shower sayings for books instead of cards will let your guests know what your priorities are. That would make you an supermom (or parent) in my books!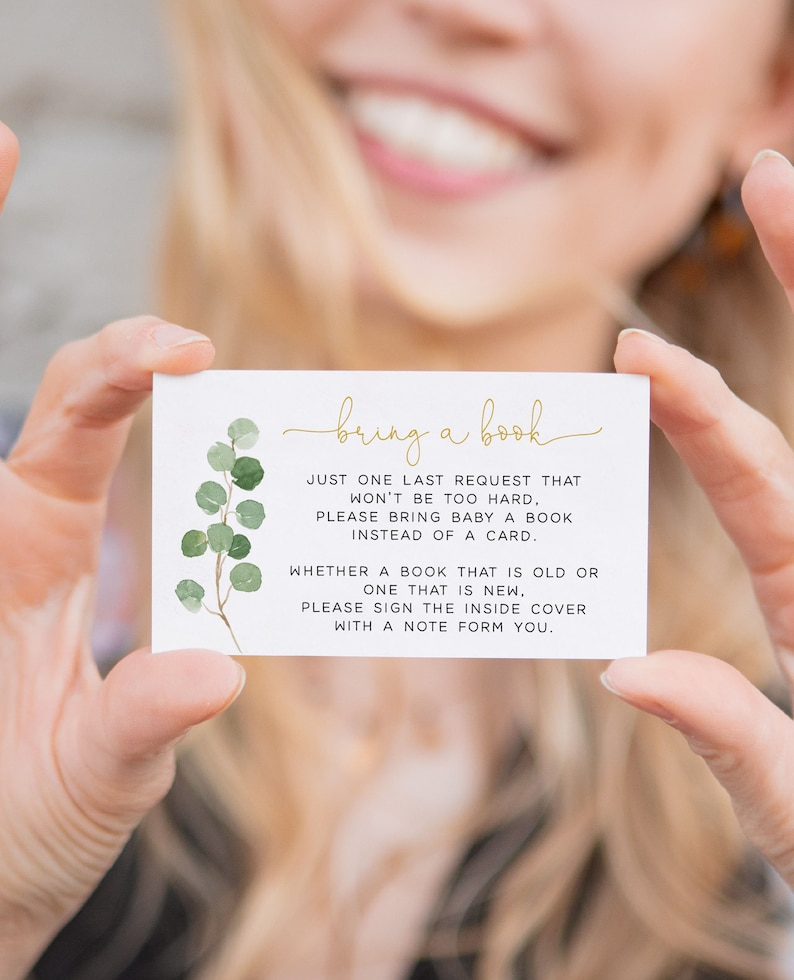 So if you love books or simply need help stocking your shelves, a book-themed baby shower is for you! With these poems (original works by me), getting the invitations rolling will be easier than ever.
Heartfelt sayings for books instead of cards
Finally, we get to the special sauce! Here are some original poems I composed just for you. Feel free to use or change any of the wording for your personal use.
Baby Shower Book Request # 1
One small request, we hope it's not hard,
please bring a kid's book instead of a card.
It's okay if it's vintage or something brand new,
Every time we read it, we'll think fondly of you.
Write a sweet message on the inside cover,
we'll cherish your words, forever and ever.
Baby Shower Book Request # 2
Baby Shower Book Request # 3
A book is a gift that always keeps giving
It lasts so much longer, for trees its forgiving
So please bring us books on the day of our shower
We'll be ever so grateful, we might give you a flower
Write a sweet note inside if you have time
Or just sign your name, we'll know it's you just fine.
There's really no need to wrap it with bows,
Just bring us your favorite book of prose.
If necessary you need to find ways to impress,
You're welcome to bring more books in excess
But books are more than just something to read,
they can help a child grow and quickly succeed.
So bring a book with you instead of a card
Our library will be brimming with food for the heart
Baby Shower Book Request # 4
Baby Shower Book Request # 5
A bookshelf is like a garden for the mind,
a place to find new ideas, grow and shine.
Books are veritable treasures that offer much more
They enrich our lives with lots to explore.
So if you can, bring a book instead of a card,
Our baby will love it, whether perfect or marred.
We're so grateful you're helping build our first library,
know that you giving baby a head start literarily.
Baby Shower Book Request # 6
Baby Shower Book Request # 7
Welcome little one, so new and so sweet,
We can't wait to meet you and greet.
In lieu of a card, please bring a book,
So your first library will have a great look.
Filled with love from family and friends,
Your bookshelf will be where your journey begins!
Baby Shower Book Request # 8
Please help us create our baby's first library,
I assure you will be so merry.
Bring a book instead of a card,
a show of love that goes far!
What an amazing gift to show you care,
making new memories, baby and I will share.
Join us and help baby get a head start
With all the love that your books impart.
We're stoked you'll be here to welcome little one,
with you here we're sure to have so much more fun, so we can have more fun!
WRIITEN BY ANNIE AT BABYPINCH.COM
Baby Shower Book Request # 9
Baby will be here in a short while,
we'd love to see your lovely smile.
just let me ask, just one thing more,
bring a book for baby to adore.
Cards aren't needed, they only last a day,
books are so much better in so many ways.
So if you feel the need to give a gift,
a book for the baby does the trick.
Baby Shower Book Request # 10
Baby Shower Book Request # 11
Bring a children's book you know will delight
Pick your own favorite or one you think I'd like,
Take it unwrapped to our baby shower to share,
and show everyone there how much you truly care.
It doesn't have to be big or one that's brand new,
just as long as it comes from your heart through and through.
So bring a book instead of a card, and help me build my baby's library,
It'll be something we can share, and it'll be a part of their story.
Baby Shower Book Request # 12
A baby is born with a heart full of hope,
And a world full of dreams.
A child's library should be brimming with stories,
Please help me give them the best start in life
By bringing a book instead of a card,
along with your smiling face to our baby shower.
Okay, okay! If I don't take a break, I believe I'll be rhyming the rest of the day. But before we go, I'd want to provide some suggestions for how to make this fit in with the rest of your theme...
Ideas to Go with Your Books Instead of Cards Request.
Now that you've decided on some sayings for books instead of cards there you still have some work to do to make your book-themed baby shower come together. You may be asking yourself: What else can you do to make this baby shower more book-inspired?
You can give your baby shower that authentic book-themed atmosphere with the following great ideas, but if you really want to ups the ante I've written an even more comprehensive guide here on how to create a book themed baby shower here.
Display your books proudly.
Since you can make the book gift-giving an activity in itself, Why not start your event with a little circle time and ask your guests to share something meaningful about the book they chose; what is the significance to them as a child?
Moreover, you can go a step further and create a book trivia game and test how well everyone knows their favorite story! You can even create a prize incentive! There are so many ways to get creative with this.
So get your reading glasses on, because here are some more fun book-themed party ideas:
Make a bookshelf or display for the books brought as gifts.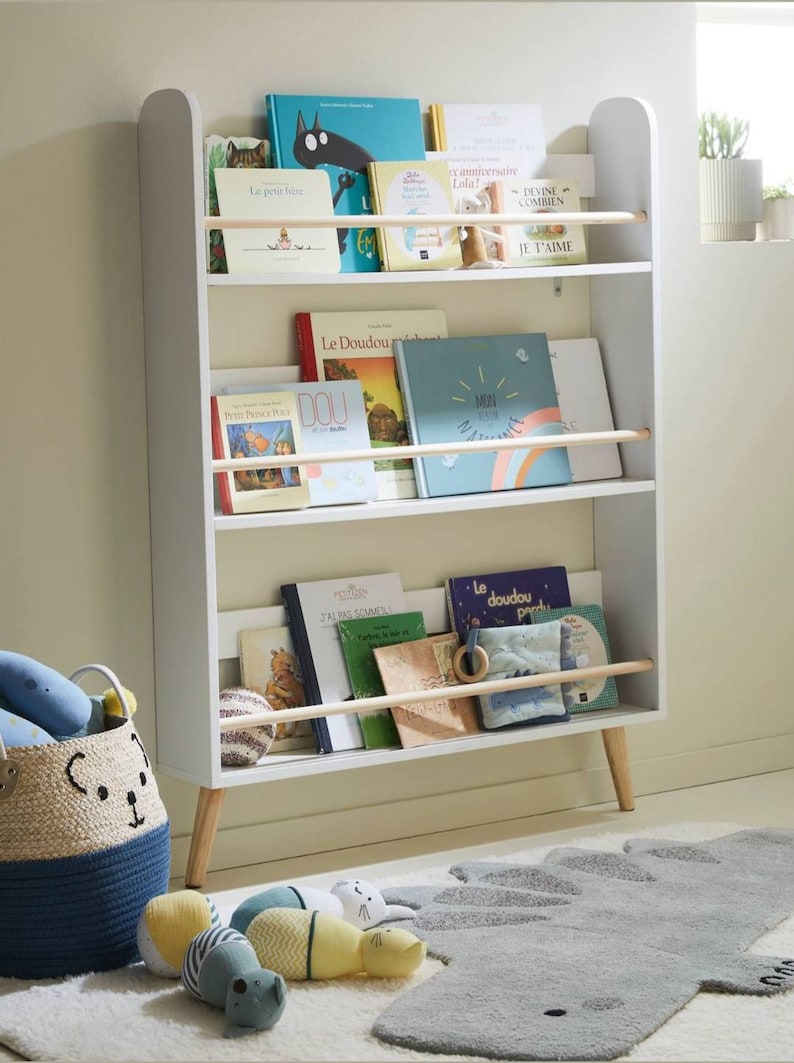 You really can't go wrong with adding an elegant and practical bookshelf to display books at your baby shower. Not only will it look fabulous at the event, but you'll be able to continue using this in your nursery long after that special day has come around!
Create a bookmark making station.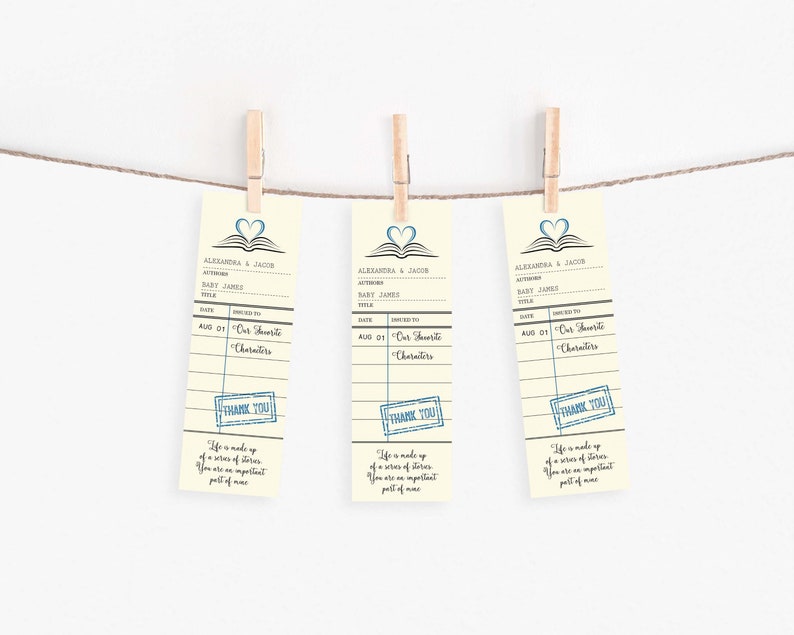 Any book-lover knows that bookmarks are essential for reading. They help to keep your place in the book, and can also be used to mark important passages or quotes.
If you're throwing a book-themed baby shower, why not set up a bookmark making station? Guests can make their own bookmarks to take home, and you can even provide some ready-made embellishments like stickers or ribbons. This is a great activity for kids and adults alike, and it's sure to be a hit with your bookworm friends. Plus, it's a great way to help prepare the new mom-to-be for all those late-night nursing sessions with her new baby.
A story time corner with beanbags, pillows, and mats
To create a cozy space for guests to gather and read stories together, simply place some beanbags around in the designated area with mats placed on top of them. You can also provide blankets or stuffed animals to give it an authentic tone.
A coloring wall with pictures from different books.
A coloring wall with pictures from different books is a great activity for a baby shower. It is fun, creative, and allows guests to get to know each other. It can also be a very calming and relaxing experience.
A photobooth with props from favorite books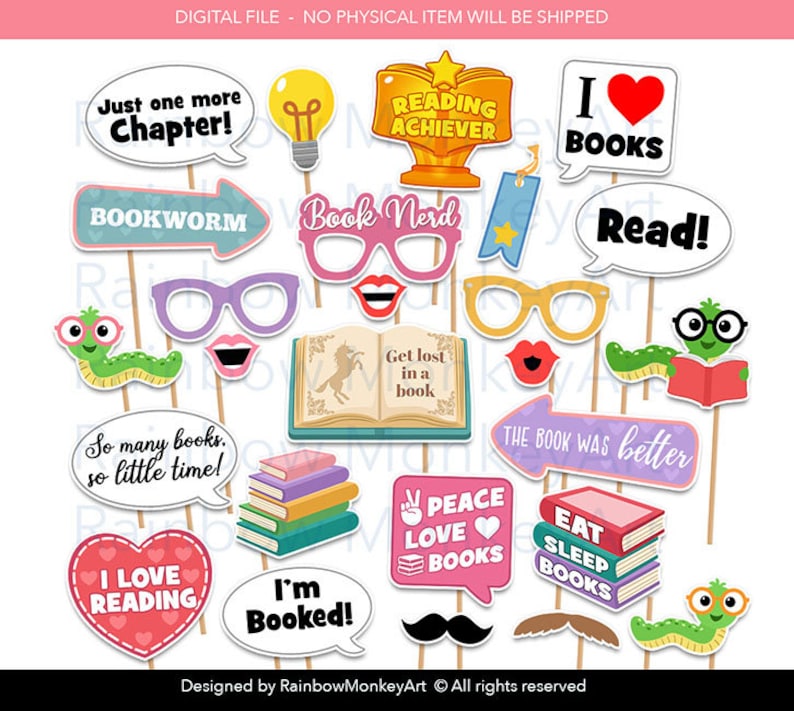 Picture-taking is a great way to capture memories, and photobooths make it easy and fun! Having book-themed props can add an extra level of fun and excitement to your photobooth.
They can also provide a bit of encouragement and reassurance for guests. After all, who doesn't love spending making a few selfies?!
A guessing game of which book each person brought.
A fun guessing game to play with book-lovers is to try and guess which book each person brought. To make it more challenging, you can set a rule that no one can repeat a book that has already been guessed.
Everyone takes turns making a guess about which book the person to their left brought. If they guess correctly, they get a point. If they guessed incorrectly, the person who brought the book gets to give a clue about the book. After each person has had a turn guessing, the person with the most points wins!
This game is not only fun, but it's also a great way to learn book trivia from your friends.

A raffle for a gift basket of books and/or related items
One way to add some excitement to a book-themed baby shower is to hold a raffle for a gift basket of books as a prize. To do this, simply have each guests to submit their ticket for a chance to win the basket. The tickets can be entered into a drawing, and the winner can be announced at the end of the shower.

A cake decorated with characters or scenes from classic books.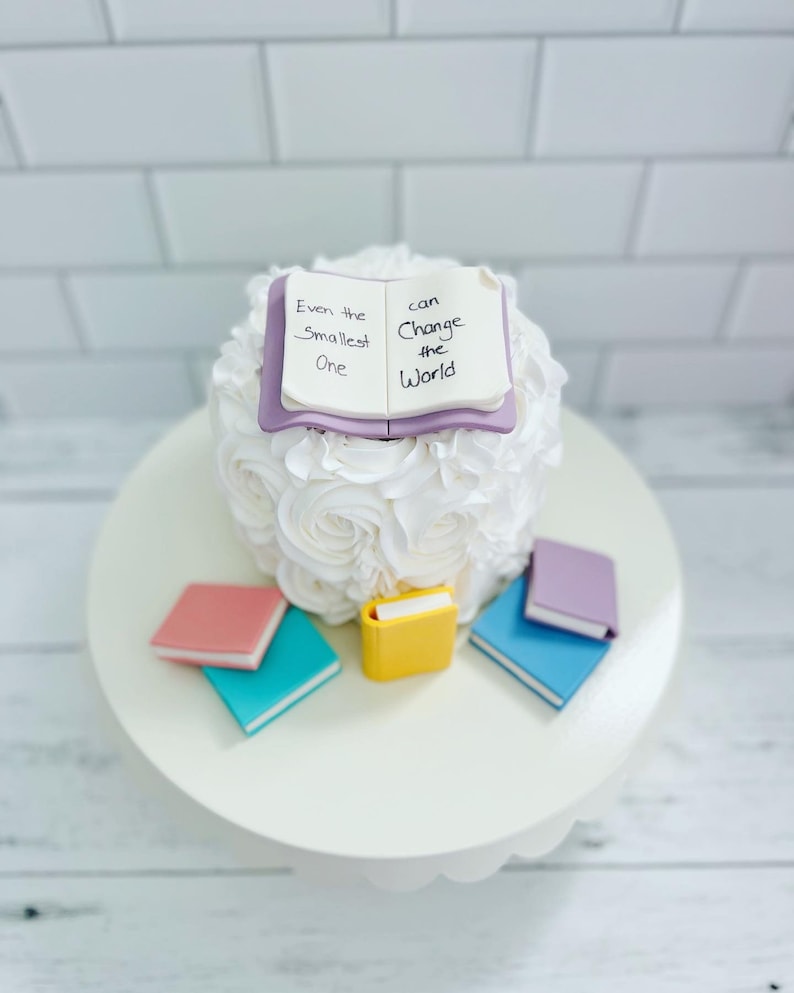 Looking for an easy, yet creative way to decorate your baby shower cake? Consider saving yourself some time and money with our book-themed toppers! You can create custom designs featuring anything from the guest of honor's favorite authors all they're favorites books. If you want something truly special we also offer customization options so that each individual will have their own personal touch on this special moment in life as well ́
I found a few examples here. Aren't they just precious? They're almost to pretty to eat.
Prepare foods inspired by the classics.
There are endless ways to create clever baby shower food that represents books or reading, such as "finger sandwiches" cut into the shape of books, or cupcakes with icing that looks like open pages.
Create an atmosphere that feels like you are in a storybook
The party can be decorated with characters or props from classic children's storybooks i.e. Green Eggs and Ham, Give a Mouse a Cookie, or Dragons Love Tacos…
Additionally, the books can serve as decorations in and of itself.
Create a homemade banner out of old book pages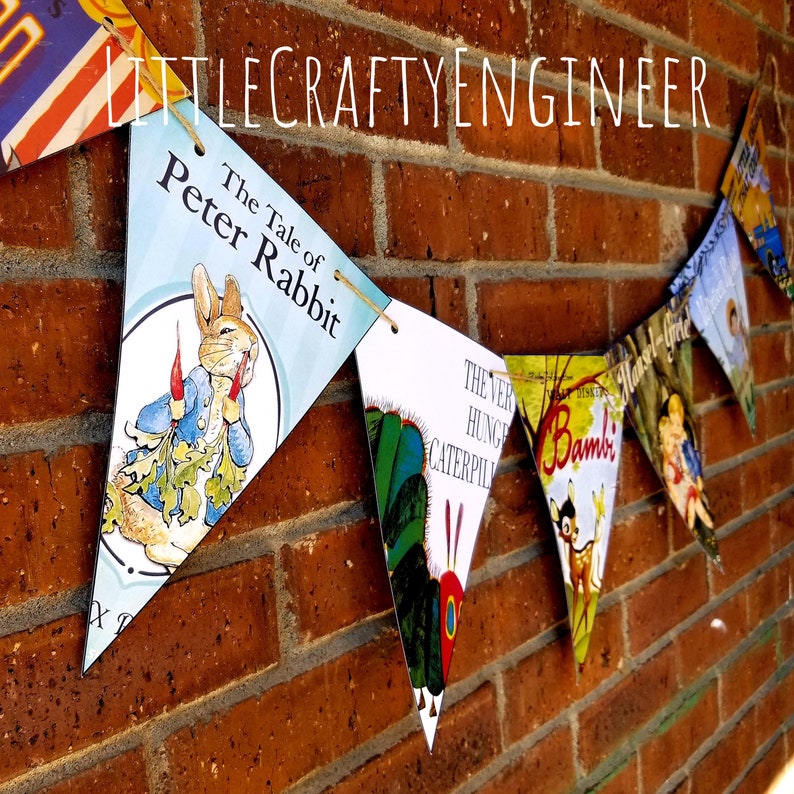 A book banner is a great way to decorate for a book-themed baby shower or book-themed event. You can either make your own banner out of old book pages, or you can order a premade banner from an Etsy shop. If you make your own banner, you can choose the exact colors and designs that you want. You can also add personal touches, such as the child's name or favorite book characters.
You can also order this adorable digital storybook banner to get you started while supporting a small shop on Etsy. Whichever option you choose, a book banner is a great way to add a touch of literary flair to your event.
To be completely transparent, I am a little biased towards my own product. I've spent a lot of time lovingly drawing each page with an illustration for the letters of the alphabet. I also offer few different themes to choose from such as woodland, jungle, adventure, Spanish etc..
My favorite thing about this activity is that it gives that personal touch to the event since guests are working together toward a common goal. Plus, it serves as an alternative guestbook!
I've even been told that it's been used at birthday parties and as a gift to teacher from the class.

Posters of popular children's books to decorate venue
With all these books being the star of the show, your baby shower is sure to be a hit! And don't forget, these books can become keepsakes to be read again and again to baby long after the shower is over.
Great Quotes for Encouraging Children to Become Book Lovers
Reading to children from an early age is one of the most important things that a parent can do for their child. It helps to encourage a love of books and learning that will stay with them for a lifetime. Here are a few more inspiring quotes about reading to children to wet your appetite:
"Books should be chosen for babies as carefully as books for adults."

– Peggy O'Neill
"There are many little ways to enlarge your child's world. Love of books is the best of all."

– Jacqueline Kennedy Onassis
"Books are the bees which carry the quickening pollen from one to another mind."

– James Russell Lowell
"A baby is born with a need to be loved and never outgrows"

– Frank A. Clark
"The more you read, the more things you will know. The more that you learn, the more places you'll go."

– Dr. Seuss
"A child who reads is a child who knows."

– Unknown
"If you want your children to be intelligent, read them fairy tales."

~Albert Einstein
If you haven't caught on by now, let me know. I could go on forever about this. Just trust me, having seven kids takes a lot of patience!
Conclusion
If you're looking for an alternative to the traditional baby shower card, why not ask guests to donate a new or gently used children's book instead?
Not only is this a fun and easy way to build your little one's first library, but it's also eco-friendly! And if you're throwing a themed baby shower, like a library shower, these sweet sayings will be perfect for your invitations.
Let me know what you think about the poems I wrote above. Do you have a favorite book instead of a card saying? If so, I would love it if you could share them in the comments below so we can add to the list.