When you were a kid, do you remember remember that feeling you got while reading and how your mind took flight into an imaginary world? Most mothers want to share that same experience with their kids and help them get the best start to life as possible. That's why book themed baby showers are becoming more popular by the day.
You're in for a real treat! There are so many fun ways to incorporate this theme into your baby shower on a modest budget and it doesn't have to feel complex or overwhelming.
From eclectic book-inspired food arrangements to fun ABC book games the possibilities go as far as your imagination can reach. That is why I have put together several book themed ideas to inspire and help you plan your next party.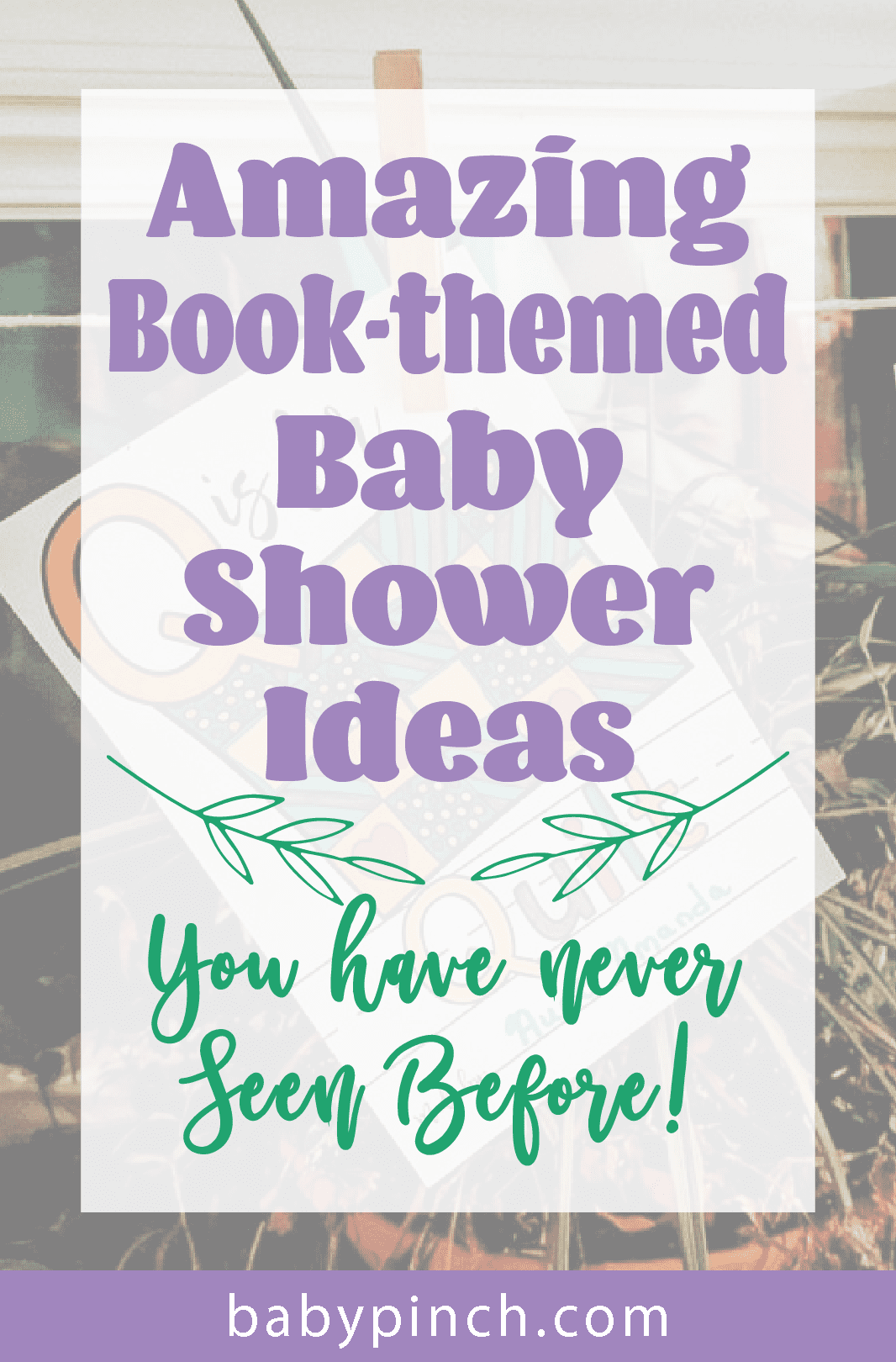 Quick Preparation Tips
The book lover in you is thrilled to start a book themed baby shower – Congrats! However, you may suddenly feel overwhelmed and panic as you begin to wonder, 'where do I start?'
The first step to throwing a successful party is to get organized and set your plans down on paper. Here's a basic list of questions to nudge you in the right direction.
What is your budget?
Where do you want to host the party?
How many people do you wish to attend?
What is the ideal date and time? (Decide on 2-3 options)
What is your favorite color scheme (optional)?
Pick two or more friends to help assist with the shopping and setup.
Set up a Pinterest group board and pin items that inspire you and/or make a google drive spreadsheet and share it with whomever is helping.
Set up a Pinterest group board and pin items that inspire you and/or make a google drive spreadsheet and share it with whomever is helping.
Decide on a baby registry and ask the mom-to-be to create a list of items.
Print out and prepare your baby shower invitations.
I also created a wonderful printable list and guide if you're interested in learning more about baby shower etiquette for first time hosts. This will help clarify some of the dos and don'ts you should be aware of.
Great Invitations to Send to Guests
The invitation is where it it all starts. Not only is this the very first impression for your guests, but it also sets the tone and expectations for what is to come. For a book themed event, there are so many great options available to match your style perfectly. Whether you go for a whimsical illustration, a beautiful typeface, or something completely unexpected – your invitation should be special and memorable.
There are so many lovely storybook invitations to choose from.
Storybook baby shower invitations are a great way to set the tone for your event. Whether you're looking for something sweet and simple or something more elaborate, you're sure to find the perfect storybook baby shower invitation to suit your style.
But the fun doesn't have to stop there. Storybook invitations can also be used for other celebrations, like first birthdays or christenings. Imagine using the same theme for various milestones in your child's life!
I personally love browsing zazzle.com for baby shower related items, and not just because I have a shop there! They recently started offering digital downloads that are really easy to personalize and edit right from your web browser. Here are a few that really caught my eye.
Don't you just love this vintage Nursery Rhyme invitation showing Humpty Dumpty, Mother Goose and the Cow Jumping Over the Moon? It goes perfectly with a story book themed shower: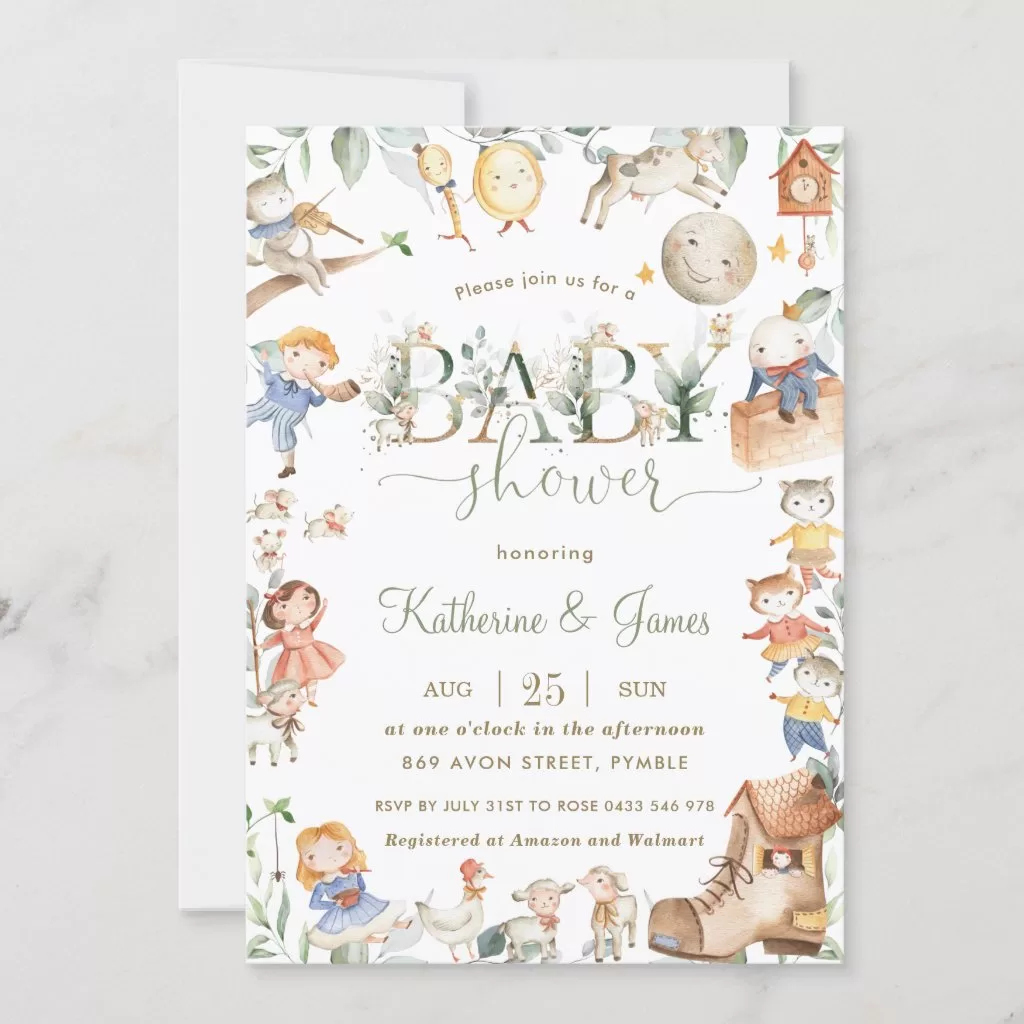 If you are expecting a little girl, you can go with an invitation like this one: "Once Upon a Time:"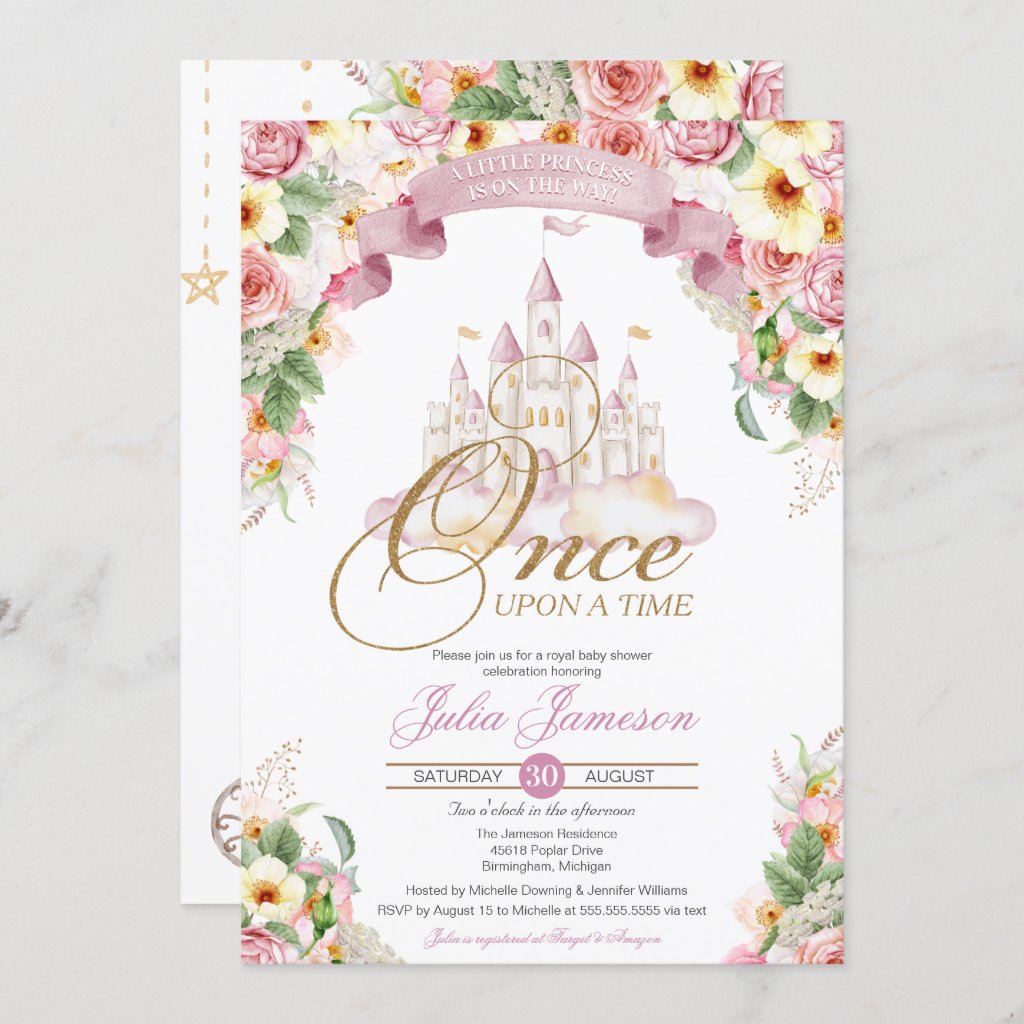 This has a nice warm and fuzzy vibe to it, plus they offer printed invites you don't need to do any prep work or trimming.
Bring a Book Instead of a Card.
When you send out your baby shower invitations, I suggest you include a business card-sized insert requesting that your guests bring a book instead of a card. This is one of a few standard enclosures you can send your guests.
If you would like some more creative ideas or ways to word your request, take a look at this post with original and unique ideas. Just like with a diaper raffle, this is a genius way to get a kickstart on your child's first book collection.  
I created a free printable that you can easily send to an online printer like Vistaprint to yourself . Just right-click it to save the default one shown below.
I just adore this old-school style library card insert for a book request. Maybe because I'm an 80s baby but can you say RETRO?!
Next, you'll want to choose a cute "Build-a-Library" sign and create a station where you can collect books from your guests. It's easy to find printable signs like this to display, you can even put it in a pretty frame or use a pedestal stand decorated with flowers, books and candy. 
Book Themed Baby Shower Decorations
Oh the places you will go with book-themed decorations! The great thing about this theme is that it is easy to put together beautiful decorations on a budget while also helping the first-time mothers start a baby book library. First thing's first: You will want to gather up as many of your favorite books as possible.
This is the perfect time to call up some friends and make a trip to the library to borrow as many children's books as you can. You can even check out a few garage sales until you've got a decent stash.
Make a Book Wreath
Do you have a bunch of old books that are falling apart? Then you can re-purpose these by creating a colorful book wreath with all the pages and hang it up at the door entrance.
Here's a great tutorial on how create your own book wreath for under $10.
Get Eco-friendly with Your Book Decorations
Got some old books lying around? Why not upcycle them and create these adorable baby block decorations for your baby shower? You can even re-use them as a part of his/her nursery room, giving it that eco friendly retro look that is so popular these days!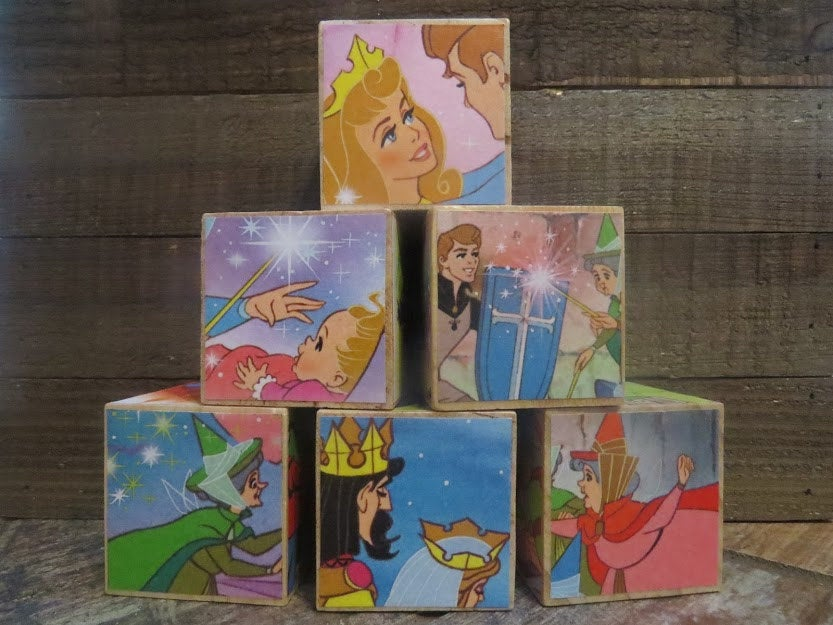 These are also multipurpose. The mother-to-be can include it in her nursery room décor. Here's another cute idea: Make a book mark garland out of the story book pages like this.
Alphabet Coloring Page Displays
ABC coloring pages are another great way to decorate for an alphabet-themed party or educational event. You can tape them together to form a banner, or hang them on the wall as part of a larger display. If you're looking for ideas, here are a few ways to use ABC coloring pages as decorations:
Tape them together to form a banner that can be hung over the entrance or exit to your event space.
Hang them on the walls around the perimeter of the room, creating an alphabet-themed border.
Use them as table centerpieces: tape or glue them to mini chalkboards or cardstock circles, and set one at each table setting.
Place them around the room in strategic spots (e.g., near the refreshments table or the door) as part of a scavenger hunt or "I Spy" game. Whatever way you choose to use them, ABC coloring pages make great decorations for any alphabet-themed event!
Menu Signs and Display
There are so many ways you can show off your baby shower menu. Here are some creative low-cost ways to set it up:
Stacked Books Menu – Create a makeshift book cover with colorful paper or with brown paper bags. Then label the spine of each book with an item from your menu and stack them tall and proud to announce your baby shower menu.
Full Sized Menu Poster – Make a full-sized menu to match your welcome sign and have each of them mounted on a poster board. You can even message me here and I will design a custom one just for you!
Printable Table Signs – Make your own printable signs. You can make signs for each menu item and place them throughout the table spread. Here's a little trick. You can go to canva and design them pretty quickly for free and then print them out and use photo frames. Canva has tons of free graphics and type you can use, or you can use a free image use site like pixabay or unsplash.
Mini Tent Signs – Create miniature printable tent signs and display them next to each food item.
Make a Hungry Caterpillar Diaper Cake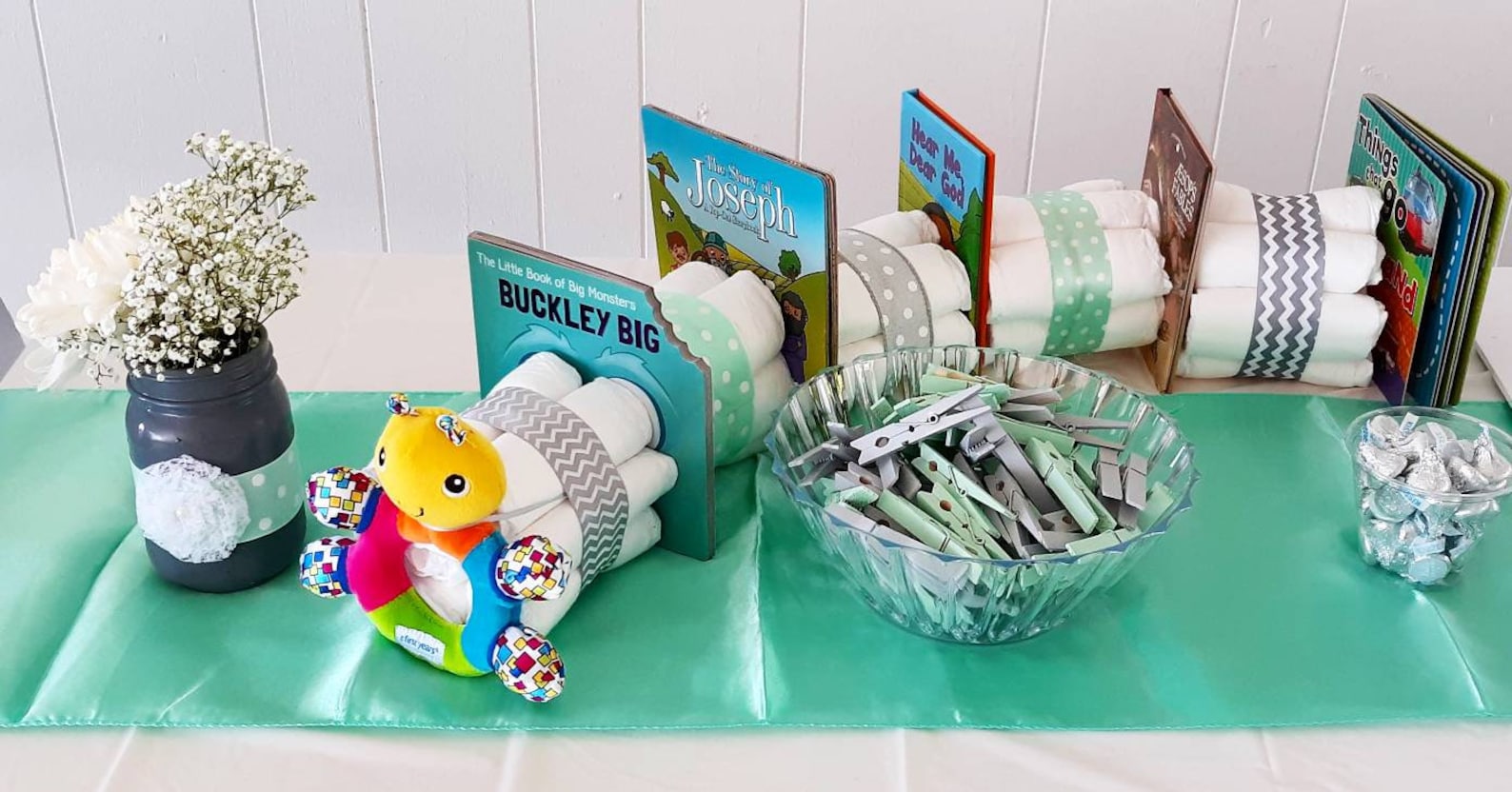 You can try your hand at creating your own caterpillar diaper cake or find something cute like this on Etsy.
Book Themed Food Ideas That Will Make Everyone Go Wild
Are you a book lover AND a foodie? Then you are in good company my friend! There are so many exciting book-themed foods ideas available it's almost hard to know where to start. Here are some food ideas that will surely give everyone that warm and fuzzy feeling. Go ahead, mix and match your favorites and have fun propping books and table signs next to each one.
Green Eggs and Ham
How about some ham and cheese sandwiches and deviled eggs made with green food coloring? Or substitute Smoked Turkey as a Kosher option. This will amuse and evoke the kid in everyone.
Dragons Love Tacos
Oh my goodness! Who doesn't love tacos? In my house we make tacos with Morningstar veggie crumbles, fresh salsa, Mexican cheese and other salad fixings to go with it. Make it look festive with lots of bright colors and you are ready to party!
If You Give a Mouse a Cookie
Yass, with all those food cravings, the mom-to-be will love you even more when she sees some homemade chocolate chip cookies. You can't go wrong with this one.
James and the Giant Peach
How about them Peaches Apples? Think peach cobbler, or a fresh fruit display.
Blueberries for Sal
Add a splash of blueberries in your fruit salad or bake a blueberry pie. Your doctor or midwife will totally approve!
Charlie and the Chocolate Factory
You can never have too much chocolate under any situation. Especially when you are an expectant mom.
Cloudy with a chance of meatballs
Mmmm… Did somebody mention meatballs? One of my favorite recipes was one my grandma used to make using grape jelly to make a sweet sauce.
Very Hungry Caterpillar
This book has so many fun foods. Again, the fruit will tie in the other fruit themed books so you can make a nice colorful fruit salad, choose some fun treats and make a big green salad to balance things out.
Pancakes, Pancakes – Eric Carle
Breakfast is such a huge staple in our household, so why not make a Pancake and breakfast buffet at your baby shower. I am always happy with affordable comfort food, and it's your best bet if you want to make sure there is something for everybody.
A Cake Made for Storybooks
You can go in so many directions with the cake simply by picking one of your favorite storybooks and going with that. I especially love this idea with Peter Rabbit cake on a stack of books by Zingermans Bakery:
Book Themed Baby Shower Favors
You're going to need some party favors to tie into the book-themed shower. Here are some fun and affordable options to consider:
Handmade story book soaps is a wonderful baby shower favor you can add to your event.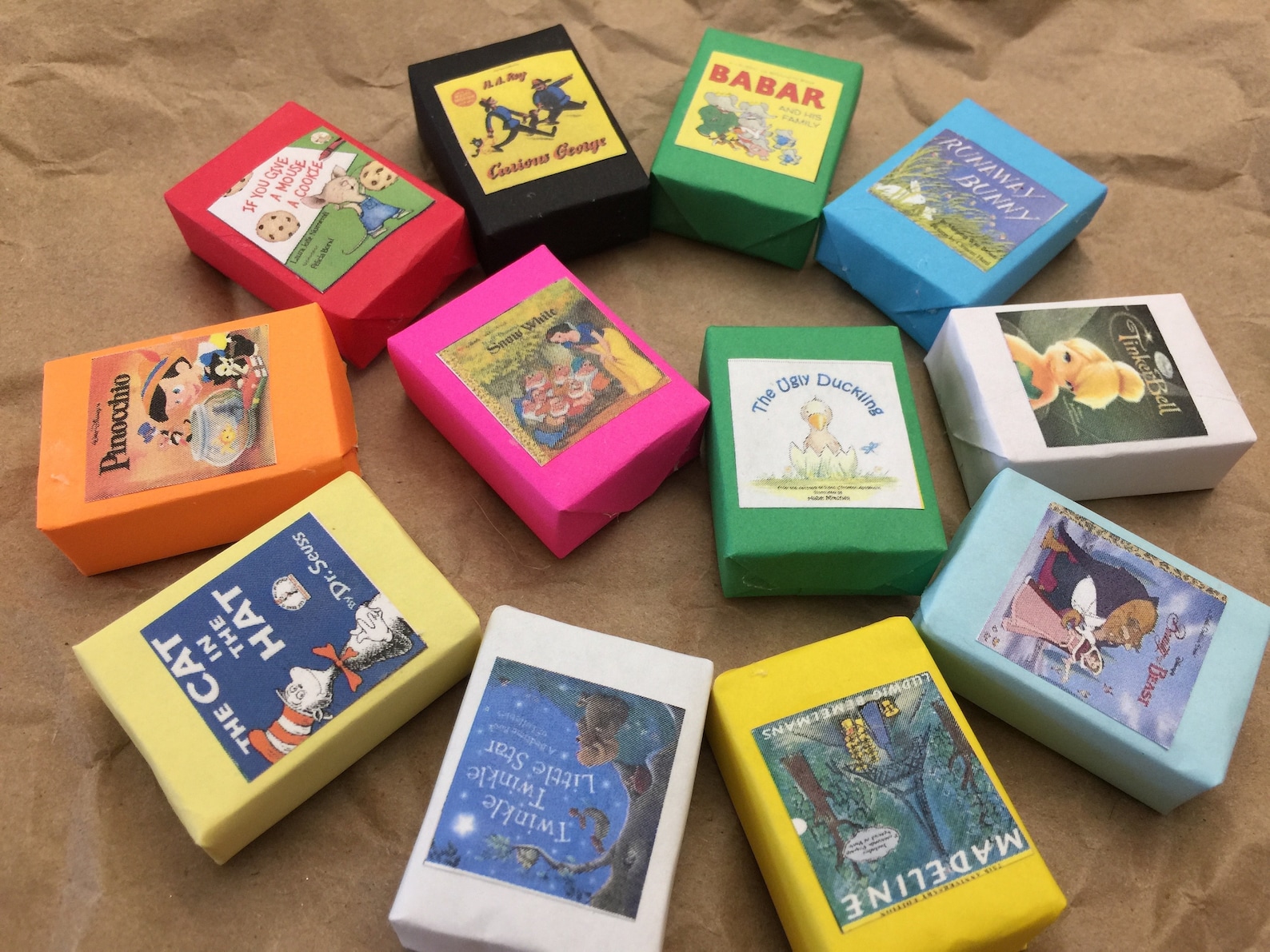 If you're looking for a way to add a little bookish charm to your decor, book worm gummies are the perfect solution. These cute little candies are sure to please any book lover, and they make great decoration for shelves or bookcases.
Believe it or not, these are fairly easy to make! Simply combine gelatin, food coloring and sugar with a bookworm-shaped mold, and you'll have a tasty treat that's also fun to look at. So next time you're looking for a unique decoration, keep book worm gummies in mind – they're sure to be a hit!
As an added touch, you can package these with a book worm label like this: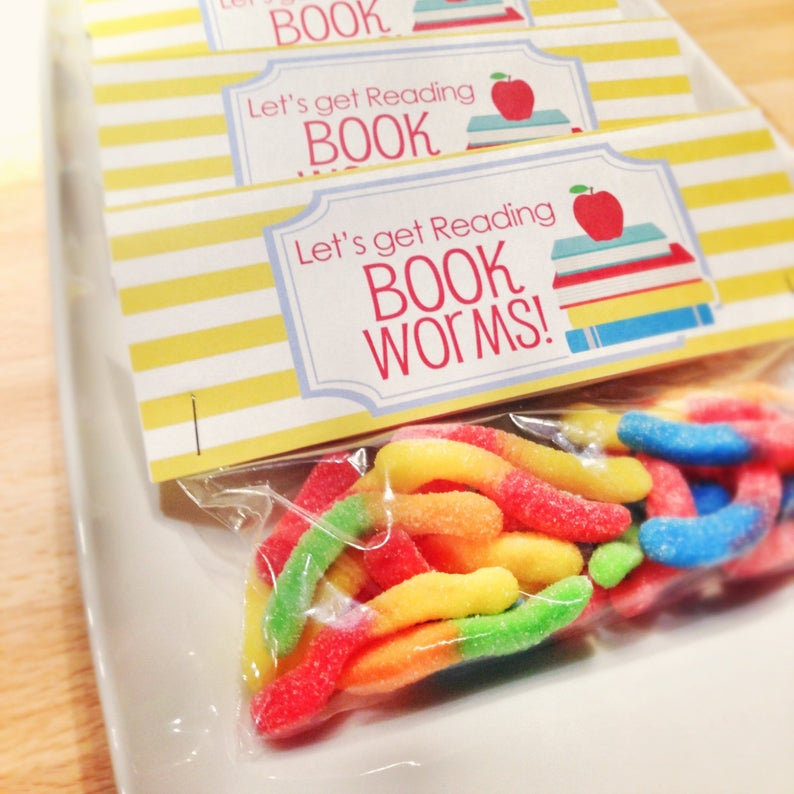 Create your own Golden Book classic-style personalized bookmarks. If you are the hands-on type, you can go to canva.com to design your own. It's easy to come up with ideas for quotes by heading over to Pinterest or google. You can find free artwork all over the web for personal use.
Entertain Your Guests With Fun Book Themed Games
This brings us to the entertainment portion of your baby shower. Allow me to suggest some book-themed baby shower games that are super fun and not embarrassing.
1. Make Your Baby's First ABC Book
You may be wondering, why have games at the baby shower? Firstly, guests have come to expect to play games; Whether they like or not is a different story. Secondly, having them available helps fill in transitions between activities and it's also a great way to occupy guests while the honored mother is opening presents. This helps make everyone feel comfortable and at home.
My absolute favorite activity is the ABC Book which doubles as a fun coloring activity and guest book! I specialize in creating hand-drawn illustrated books which are personalized with the baby's name or however you like.
It's simple to set out the pages to create a coloring station with colored pencils and/or markers next to the matching table and tent sign. Once everyone is finished, you can use the pages to create a colorful banner; Just attach them to some twine with clothespins.
You have the option to get the instant download in three different sizes to print and prepare yourself, or you can get the Printed ABC book with Album included (where I take care of all the prep work for you.)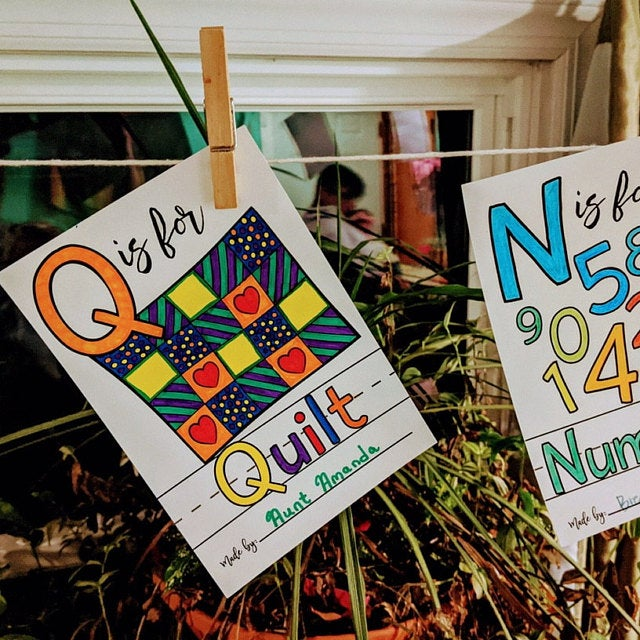 I have several options available at my shop, I even have Spanish ABC book available!
2. One Fish, Two Fish Guessing Game
Fill up a glass ball jar with gummy fish and see whose answer is the closest. The winner receives a special prize.
3. Don't Say "Baby" Game
Don't Say Baby is a funny game about self-control. The goal is to avoid saying the word "baby." Everyone starts out with one clothing pin attached to their clothes, but if they say "baby" another guest may steal their pin. Whoever gets all the clothespins at the end wins.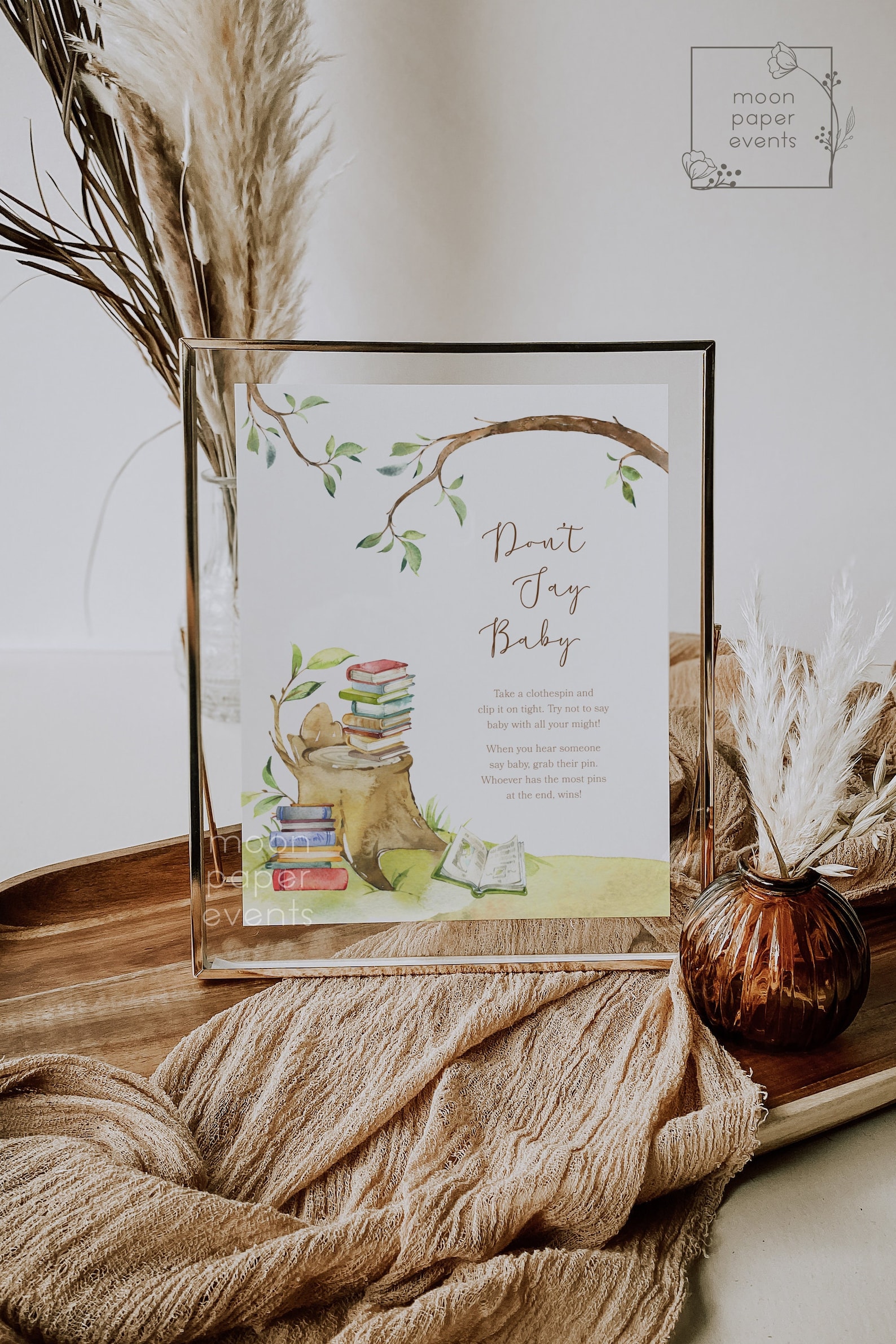 4. Printable Nursery Rhyme Games
You may want to pick up a printable Nursery Rhyme Trivia Quiz like this one;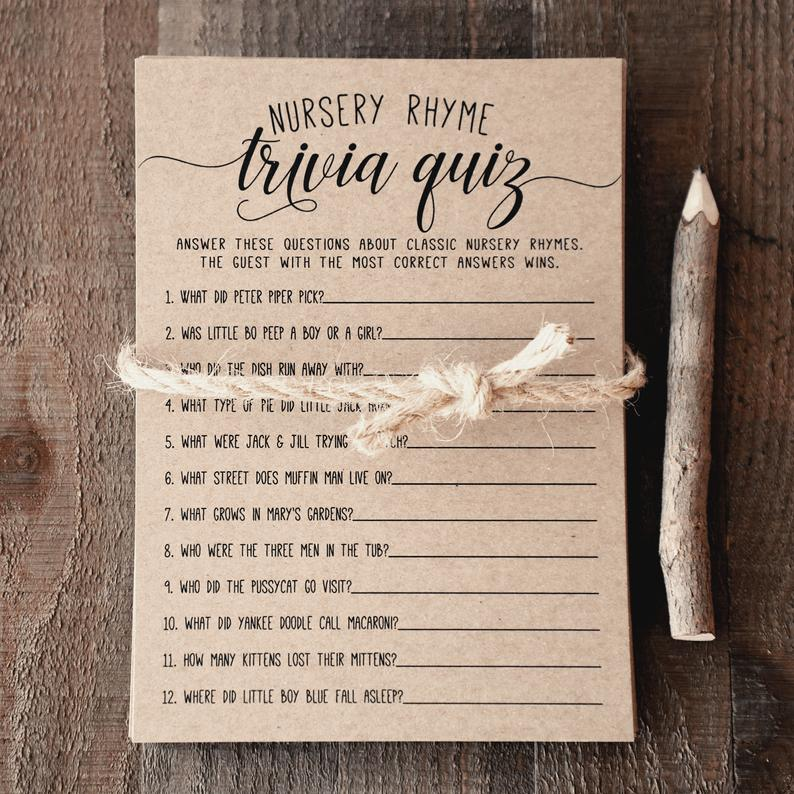 5. Another fun option is the book Emoji Game:
If you're looking for a fun and unique baby shower game, why not try the Emoji Game? In this game, guests have to decipher emojis to find the baby-themed word or phrase. It's a perfect way to incorporate some fun and laughter into the shower.
To play, simply print out a copy of the game sheet for each guest. Then, use a marker to write out baby-themed words or phrases in emoji form. Once all of the words or phrases are written out, let the guests take turns trying to decode them. The first person to correctly guess the word or phrase wins!
This is a great game for baby showers of all sizes. So, if you're looking for something new and modern, give the Emoji Game a try! Here's a perfect Children's Books Pictionary Game on Amazon that is already printed and ready to use at your party:
Getting Ready for the Big Day
That about wraps it up. Hopefully you are now feeling much better prepared for hosting a book-themed baby shower. Just think of how proud you will be once it all comes together and you can admire everything you've achieved?
I truly hope that you have found some inspiration from this post, and I'd be really honored to see you back here soon!
Also, I would love to know what you're favorite item was mentioned here or if you have any other ideas to contribute.