If you're one of the lucky ladies who's been asked to host a baby shower, then you may be wondering about proper baby shower etiquette. As a first time host, it can be even more daunting and stressful facing the unknowns ahead.
You may be uncertain how many people to invite, what kind of games to play, or how best to make your guests happy without going overboard.
By following these 9 dos and don'ts below, you can throw a lovely event that both mom-to-be and her guests will enjoy. Be sure to look for the printable checklist at the end.
I may receive make a small commission if you make a purchase through one of my affiliate links. I only recommend products and services that I trust and love myself, so you can be sure that I believe in them wholeheartedly. Thank you for your support! Learn more.
1. Baby Shower Guest List
Do put careful consideration into your guest list.
When putting together your guest list try to think about who the new parents would like to celebrate with how much space you are working with at the venue.
If you're having a shower at a restaurant or other small location, you'll probably want to limit the number of guests to ensure everyone is comfortable.
On the other hand, if you have a large home, you may be able to invite more people. When in doubt, it is always better to err on the side of caution and invite fewer people than you would like. You can make the baby shower fun for everyone and less stressful for the new parents by doing it this way.
Don't invite just anyone
If this is your first baby shower there is no need to go overboard trying to invite everyone and their mother! The ideal number of guests for a baby shower lies somewhere between 25 to 30 people.
This feels like the perfect amount where it's still celebratory without turning into an all-day event. Of course, there are always exceptions to the rule. Some may be completely at ease with a bigger group of 50 or more, it all depends on their personal taste.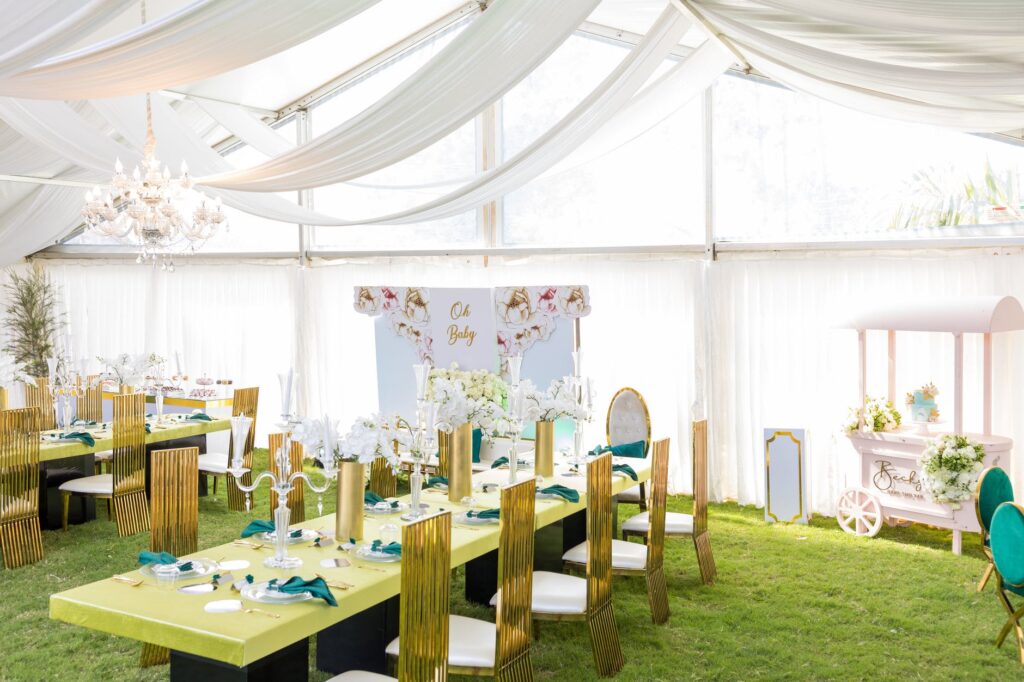 So…. who should make the cut?
Make sure to include important people in the parents' lives. Even if you don't know everyone on the list well, they should be special and supportive to the new parents. This might include grandparents, aunts, uncles, and close family friends.
2. Sending Out Invitations
Do send a baby shower invitation in a timely fashion
Ideally you will want to send invitations 4 to 6 weeks before the party, but no less than 2 weeks. This will give the parents and guests time to clear their schedules and make arrangements as needed.
Nowadays, can find all sorts of great invitation templates online or even design your own. With a little creativity you can find almost anything to fit the theme and overall tone of your shower.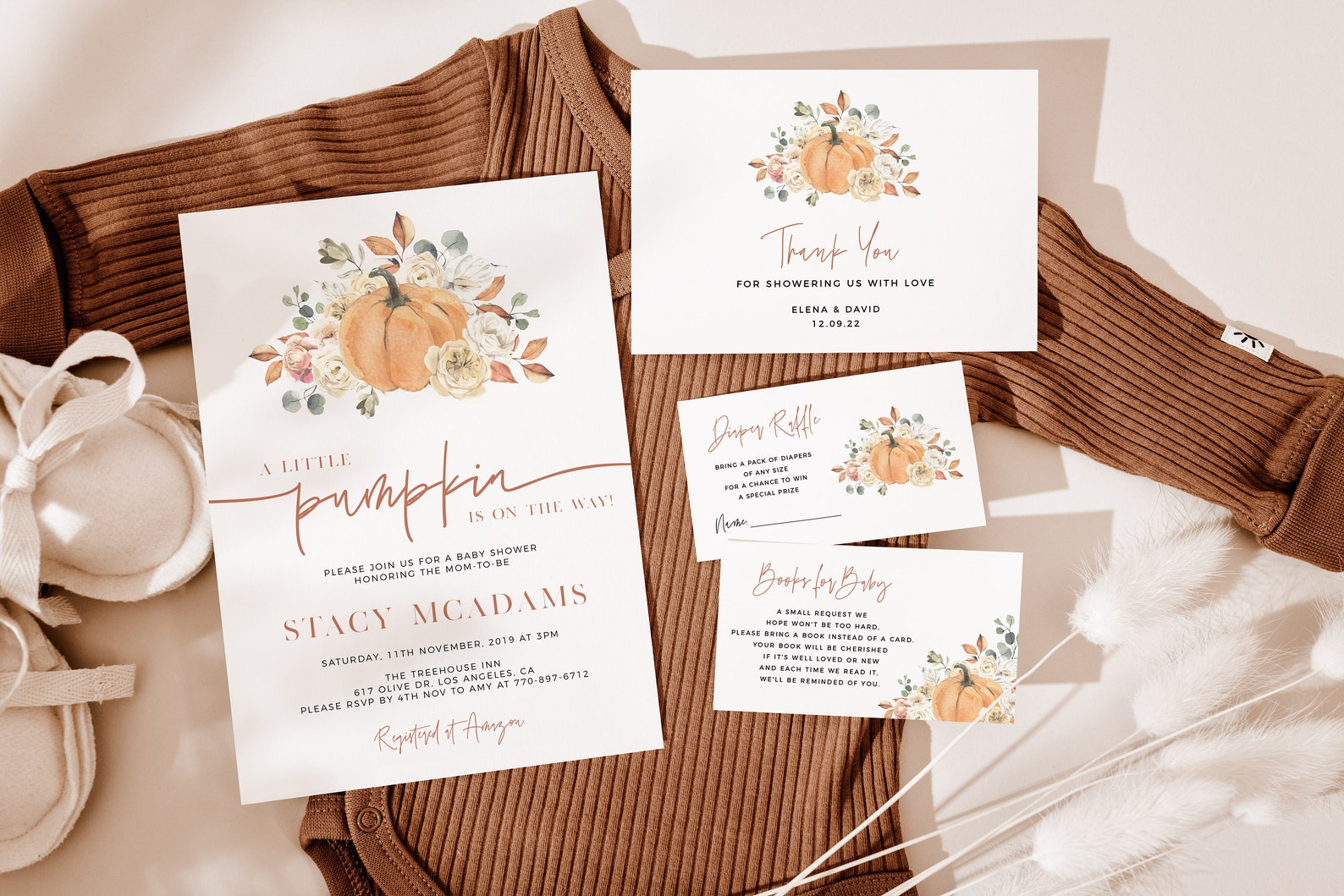 Don't overlook the details.
When sending out invitations, be sure to include all of the important information guests will need to know. This includes the date, time, and location of the shower.
Here are some additional details to include if it applies:
Style i.e. coed, family-friendly, virtual
Indoors or outdoors
Gift registry or wishlist info
RSVP contact information
Parking instructions
Gifts wrapped or unwrapped
3. Choosing a Baby Shower Theme
After you've gotten your guest list and invitations prepared, the next step is to start creating the perfect baby shower theme. You likely want your guests blown away by a fabulously decorated baby shower that perfectly fits the tone of your event.
Do choose a theme for the baby shower and stick to it.
When it comes to baby showers, having a theme is key. It helps set the tone for the event and gives your guests a focal point around which they can organize their thoughts. A well-executed theme can also make your baby shower look fabulous and pulled together. So don't overlook the details when planning your shower – choose a theme and stick to it!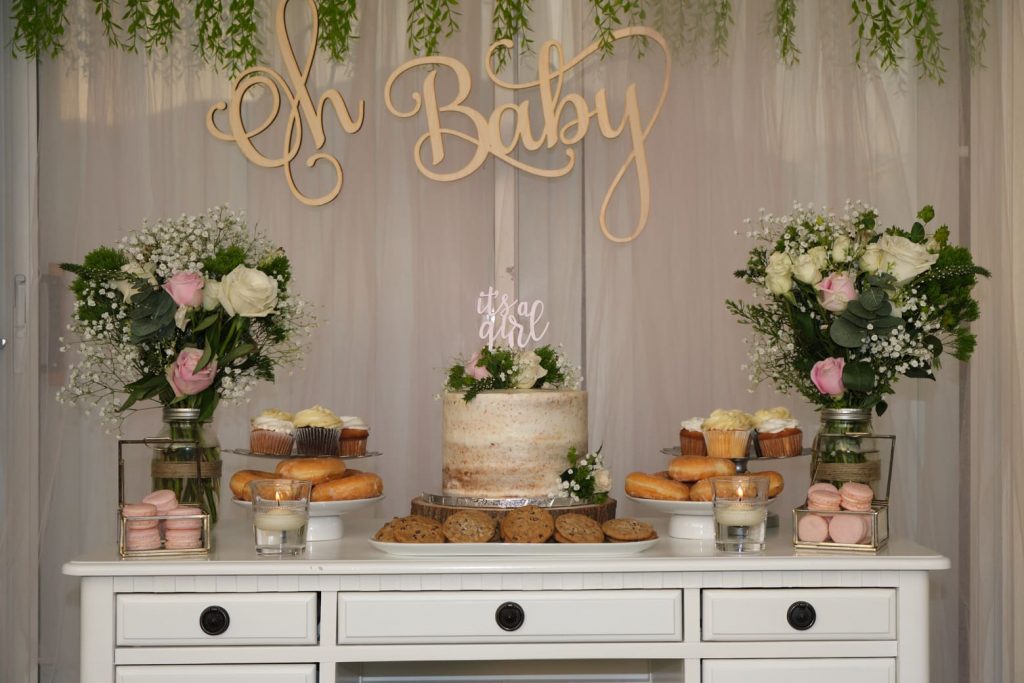 Any baby shower should reflect the unique style of the honored mother, so be sure to keep that in mind when choosing a theme. After all, she'll be the star of the show! If you know her well, you might have some idea of what kind of decorations and motifs she'll enjoy. But even if you don't, it's always a good idea to ask her opinion – she might have a few ideas of her own.
If you don't have any guidelines to go off of, no problem! You can start by considering the time of year the baby shower will take place. A springtime shower might be filled with pretty pastels and bunny decorations. A wintertime shower could have a festive holiday theme with lots of red and green.
You can also get inspiration from the location of the shower. If it's taking place at a brunch spot, you might want to go with a breakfast-themed shower complete with pancakes, bacon and eggs.
If the party is at a beach house, why not have a summer barbecue-themed shower with games like frisbee and water balloons?
Of course, you can also just keep it simple and go with a classic style like nautical or floral. No matter what route you decide to take, make sure the decorations reflect the overall theme and tone of the event.
Don't go overboard with the baby shower decorations.
Choosing the right decorations for your baby shower is vital to setting the tone and mood of the event. You don't want the room looking like an over-the top carnival (unless that's your chosen theme)! It should have just enough flair to make it feel festive without being overwhelming! So opt for modest and simple decorations–it doesn't have to be flawless.
Also, be sure all of your decorations reflect the theme you've chosen. Avoid mixing and matching multiple themes; it will just appear chaotic. The same may be said for color choices. Don't use more than two or three colors in your decorating plan; any more than that and visitors will be too much.
4. Baby Shower Games and Activities
When planning a baby shower, one of the most important aspects to consider is the games and activities that will be taking place. Games and activities add excitement and fun to any baby shower, and they give guests a chance to interact with each other. There are many different types of games and activities that can be enjoyed at both virtual and traditional baby showers, so it's important to choose ones that fit the tone and theme of your event.
Do set up a variety of games or activities that your guests will enjoy.
If you want your baby shower to be more light-hearted and fun, consider silly games that guests can play in teams and win various prizes. Baby shower bingo, baby mad libs and late night diapers are all great examples of activities that guests can enjoy. Is your honoree the outdoorsy type? Then she may enjoy baby shower games that are played outdoors, like "my waters broke" or "pin the baby on the mommy."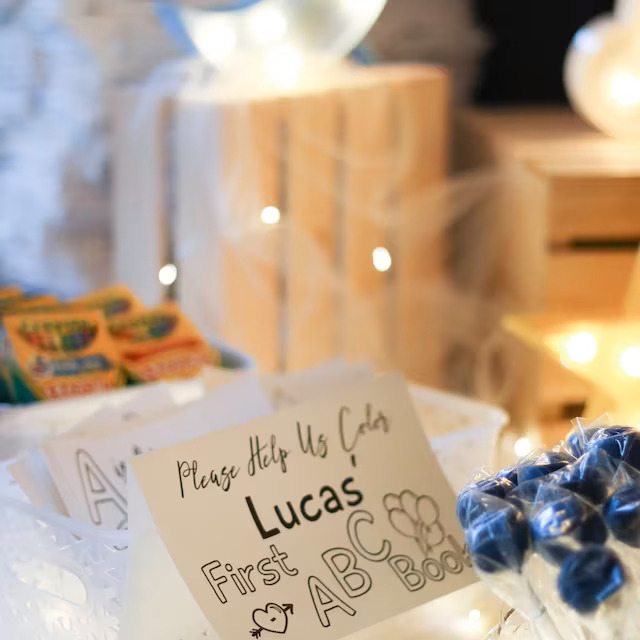 If you're planning a baby shower with more of a serious or sentimental tone, you might want to focus on activities that help the honoree prepare for motherhood. baby shower trivia, baby shower advice cards, and baby shower wish list are all great examples of activities that can help the mom-to-be feel more prepared for her upcoming arrival.
No matter what type of baby shower games and activities you choose, be sure to have enough for all of your guests to enjoy. No one wants to be left out or bored at a baby shower!
Don't overwhelm your guests with too many games.
Since baby shower ceremonies are limited in time, it's best to stick to two or three main games that your guests will definitely enjoy. It's also a good idea to have an activity for guests to do while gifts are being opened, like coloring a page for the baby's first abc book. This way parents and guests can avoid any awkwardness.
Finally, avoid baby shower games that are too complicated or require a lot of coordination. Guests should be able to jump right in and start playing without too much hassle. Keep it simple and fun!
5. Baby Shower Food
When it comes to baby shower foods, the sky's the limit! You can go with a classic menu of sandwiches, salads and desserts, or get creative and come up with a themed-based menu that reflects the honoree's interests. If you're not sure where to start, don't worry! There are plenty of ideas and tips here to help get you started.
Do make sure there is plenty of food and drinks.
Always make a double or triple batch of any baby shower food you choose to offer, just in case..
If your baby shower has a theme, be sure to incorporate it into the food choices as well. For example, if you're throwing a baby shower for a book lover, why not serve up some yummy literary-themed snacks, for example you can try to recreate green eggs and ham by Dr. Seuss or tacos with the book "Dragons Love Tacos" propped up next to it, etc. The possibilities are endless!
You can also go the straightforward route and opt for simple comfort foods like chicken salad sandwiches, bagels and cheese, fruit platters and/or pastries and brownies. And if you want to get fancy, try out mini quiches, bacon wrapped dates or even sushi to make your baby shower meal unique and memorable.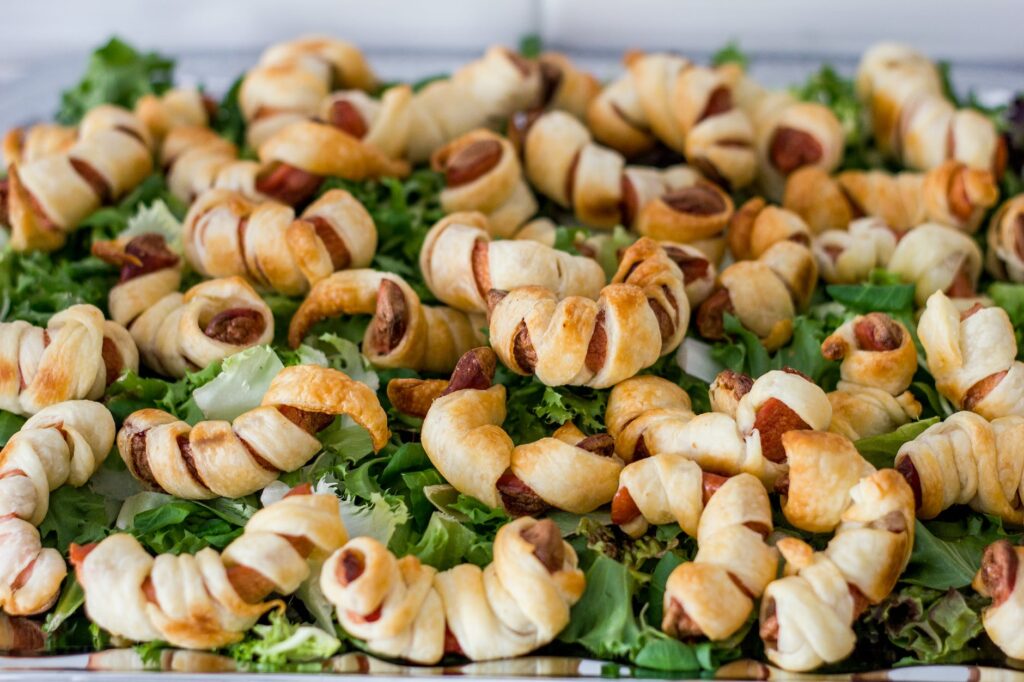 No matter what baby shower foods you choose to serve, be sure to have enough for all of your guests. If you're not sure how much food to make, err on the side of caution and make a little extra. That way, everyone will leave your baby shower feeling happy and well-fed!
Don't forget to inquire about dietary restrictions.
When creating your baby shower menu, be sure to ask your guests about any food allergies or restrictions they may have. This will help ensure that everyone can enjoy the food at your event. If there are any dietary restrictions that need to be accommodated, be sure to plan ahead and make appropriate arrangements. For example, some people may only be able to eat gluten-free, or they may have a nut allergy, or require kosher foods.
It should also be mentioned, it is not considered good taste to serve alcohol at a baby shower. This should be a time to focus on the parents-to-be and not risk creating an unsavory environment for them. That being said, if you do serve alcohol, try to keep it limited to assure that it taken in moderation.
No matter what type of baby shower you're hosting, always have a few backup snacks and a variety of drinks on hand in case of emergencies. This way, no one will go hungry if their favorite dish isn't an option!
6. Baby Shower Favors and Prizes
Do have a few prizes on hand for the game winners.
Guests at baby showers like to play games and win prizes. It's a lot of fun. To make sure everyone has a good time, it's considered good baby shower etiquette to prepare party favors and prizes. This will guarantee everyone will leave happy and not empty-handed.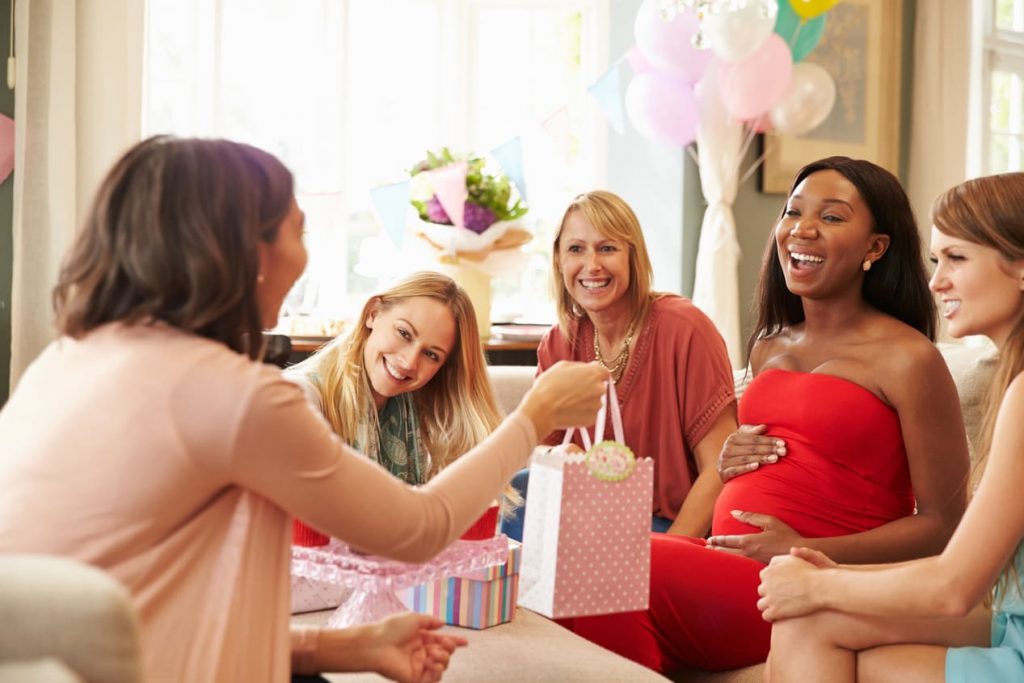 The prizes don't have to be expensive. A few small, inexpensive items will do the trick. For example, you could give out gift cards to the local coffee shop, or a free pass to the movies.
If you're looking for something a little more unique, try decorative picture frames, house cleaning services, car detailing or a spa treatment package.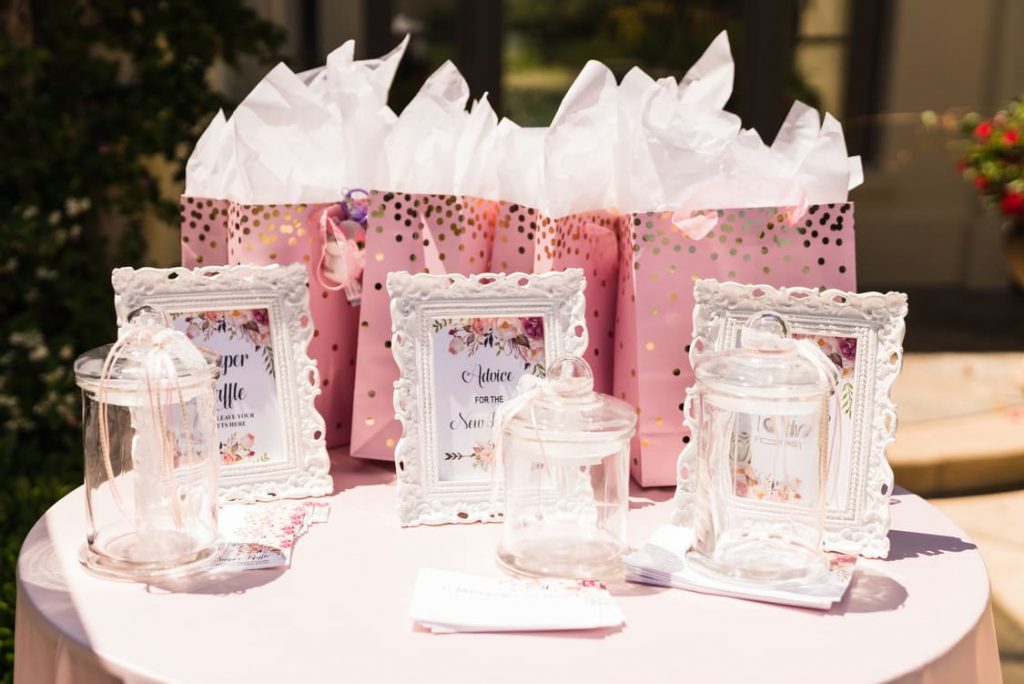 These are just a few ideas to get you started. Be creative and have fun! The most important thing is to make sure everyone goes home happy.
Don't forget gifts for everyone else.
It's always a nice gesture to have small prizes or favors for guests, even if they don't win any games. This can be anything from gift cards and beauty products to just candy.
You want everyone to feel included, so having something for everyone is the way to go!
7. The Main Centerpiece — Baby Shower Cake
I realize that not everyone will see eye to eye with me on this, but in my opinion, the cake is one of THE most important details at a baby shower. It's comparable to perhaps the bride's dress on her wedding day. So, you'll want to pay attention to this.
Do choose a baby shower cake that matches the theme.
When it comes to baby shower cakes, the sky's the limit! You can choose any flavor or style you like, and there are endless possibilities when it comes to decorations. Just make sure it matches your overall theme to make it the focal point of the event, aside from the honoree, of course!
For example, if your theme is "The Lion King," you could have a cake made in the shape of a lion or with jungle-themed decorations.
If your baby shower is more general, you have more flexibility in terms of design. You could go with a traditional pink or blue cake or try something more creative like an woodland-themed cake.
Remember to use colors and designs that coordinate with your main color pallet, as mentioned above. This will help create a unified look for your event. For example, if your theme is "Under the Sea," you could use blues and greens as your main colors and include marine-themed decorations like shells or starfish on your cake. If your baby shower has a more rustic feel, consider using earth tones like browns and greens to match the theme.
Feel free to get creative with your cake decorations and add as many details as you like. For example, if your baby shower theme is "Tea Party," you could add an extra tier to your cake and decorate it with miniature teacups and saucers. Or if your baby shower is for a sports fan, you could have a cake decorated with soccer balls or footballs. The possibilities are endless!
Don't procrastinate on the baby shower cake.
Baby shower cakes can be notoriously difficult to order, and many people end up waiting until the last minute to place their order. You don't want to be left disappointed when the bakery says they are all booked up.
In addition, ordering your cake early gives you time to shop around and compare prices. It's also a good idea to have a backup plan in case the bakery has a problem with your order.
So if you're planning a baby shower, don't wait until the last minute to order your cake – make sure you give yourself plenty of time to get the perfect cake for your special event!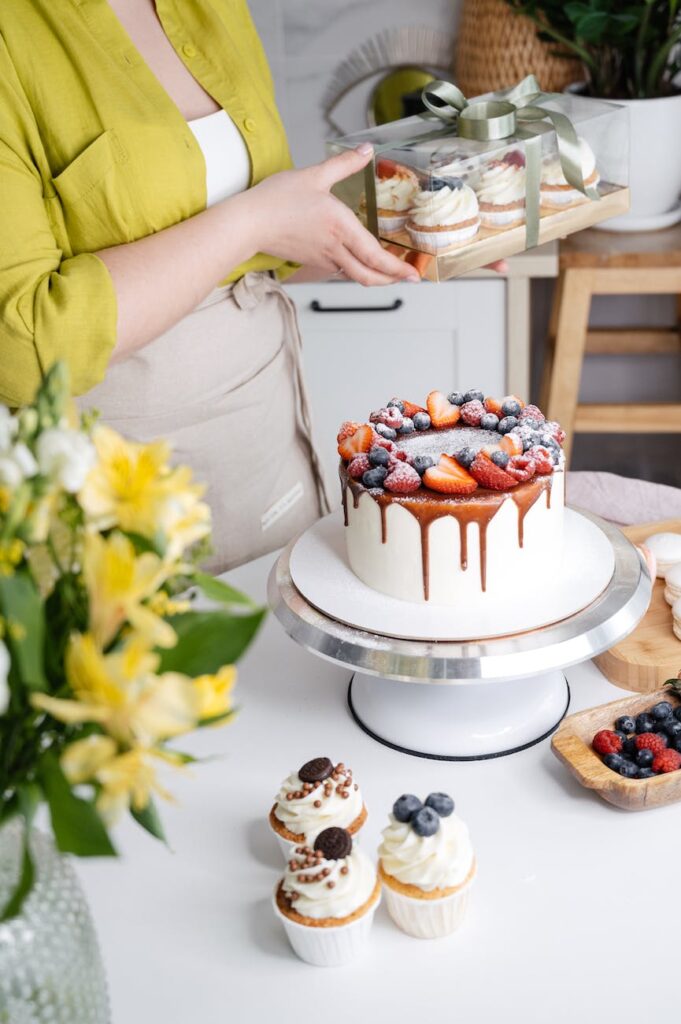 8. An Unwrapped Baby Shower
An unwrapped baby shower is a party where guests bring gifts that are not wrapped in paper or bows. Instead, the gifts are placed in a box or basket and presented to the parents-to-be as they arrive.
Do open gifts as they are received.
An unwrapped baby shower is becoming increasingly popular because it saves time and money on wrapping paper and ribbon, and it allows guests to see what they are giving before they make their purchase. Unwrapped baby showers also tend to be more intimate affairs, where guests can take the time to speak with the expectant mother about her new arrival and offer advice and support.
This may seem like a new and trendy baby shower concept, but if you're looking for a unique and practical way to celebrate the arrival of a new bundle of joy, it's worthy of consideration! As a bonus, it's eco-friendly too.
Don't wait until the end of the shower to open gifts.
When parents receive presents at a baby shower, it's usually time consuming and a little awkward for some. That's why I suggest an unwrapped shower, again for efficiency.
However, if you decide to go with a regular gift opening, try to schedule this activity somewhere in the middle of the event, and offer your guests other activities to do such as coloring an ABC baby shower guestbook.
With an unwrapped baby shower, be sure to let your guests know ahead of the event. You can add this detail to your invitation (see tip #2). Second, I suggest finding a spacious spot where you can receive and store gifts while the guests arrive.
9. Baby Shower Memorabilia
Parents-to-be often look forward to baby showers for the gifts, food, and memories. What better way to capture those memories than through cherished memorabilia? Here are some tips on how make your next baby shower one they'll never forget.
Do create keepsakes so the parents can hold onto the memories.
One of the best ways to capture the memories of a baby shower is to take plenty of pictures. This can be done with a simple point-and-shoot camera, or even your smartphone. Be sure to snap photos of the guests, the decorations, and the cake.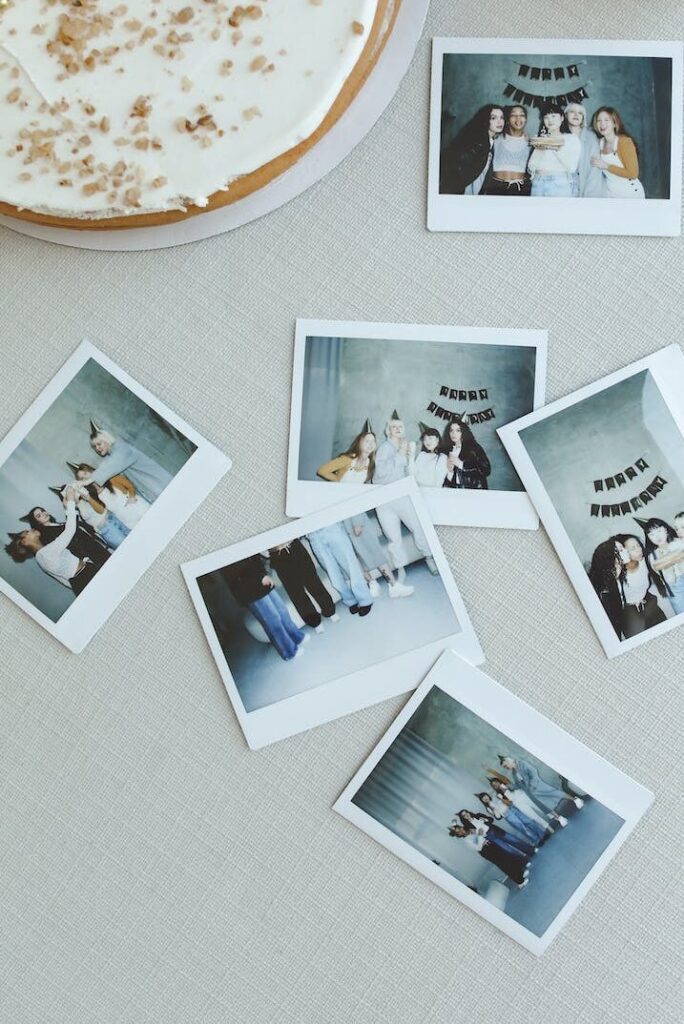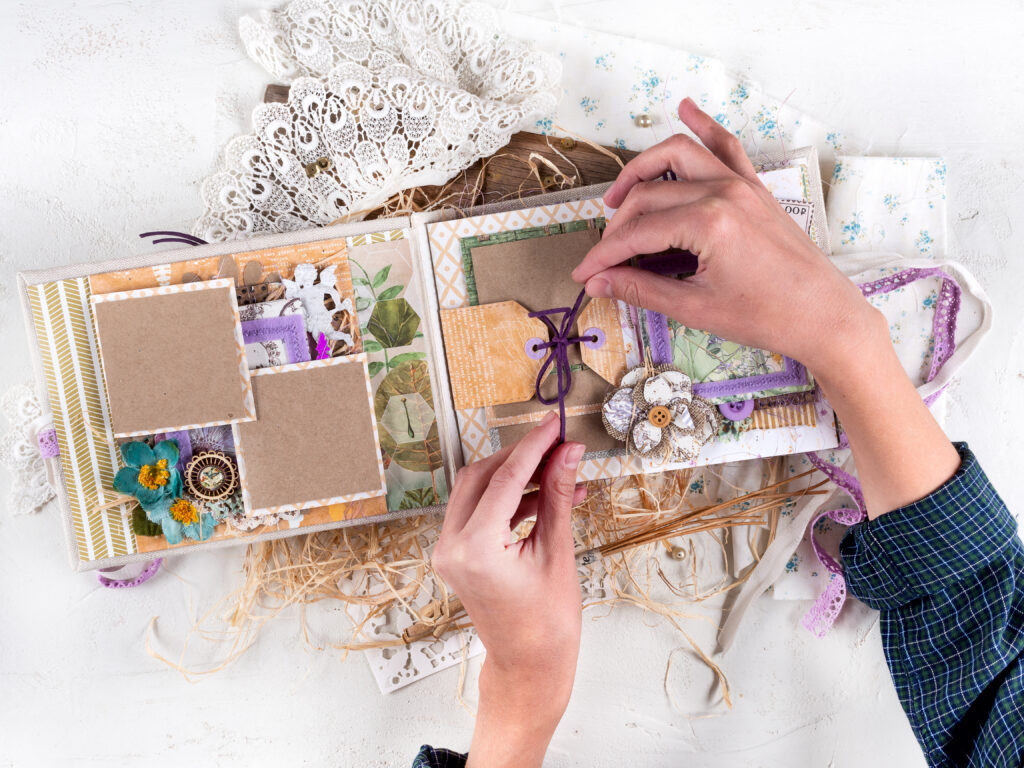 A great way to capture those memories is to have a photobooth set up for guests to snap amusing selfies. All you need for this is a backdrop, some props, and a Fuji Instax camera. The latter works like an old-fashioned polaroid, adding a touch of nostalgia to your photos!
Not only can you take pictures at the baby shower, but you can even ask your guests to help put together a memory book! You can create a memorable and one-of-a-kind book for the new parents by arranging Instax Pictures of the guests and decorating them with stickers, quotes, and well-wishes for the new baby. If you used a "Wishes for Baby" activity at the shower, you can incorporate that into the book as well.
Don't forget to get a group photo.
Save this momentous occasion by taking a group photo of all the baby shower attendees!
For the best group photo at a baby shower, ask all of your guests to gather in an area that has good natural lighting. This can be either outside or near a window.
The best lighting happens when the light source is to the side of the group. This way, you can see the person's features better. If the light is behind them, you will only see a dark outline or silhouette.
Also, if they are looking directly into the light, they may have to squint uncomfortably. Plus, having direct light shining on an object or person's face can cast unflattering shadows and highlights.
To sweeten the deal, have everyone sign it too so that you can frame it and give it to the expecting parents. They'll love seeing all of their loved ones gathered together in one place, PLUS they'll get to look at it every day when they walk into the nursery. What a thoughtful way to show how much you care about them!
To summarize, baby shower memorabilia is a brilliant way to keep the memories of that special day alive. Whether you take pictures, have a photobooth, or put together a memory book, be sure to get creative and have fun with it! Not only will the parents-to-be appreciate your thoughtfulness, but they'll also have keepsakes to cherish for years to come.
Free Printable Baby Shower Checklist
Join us for great resources like this one, tips and tricks and updates to help you on your way!
Don't worry, you may unsubscribe at it any time, I promise not to use any mommy guilt 🙂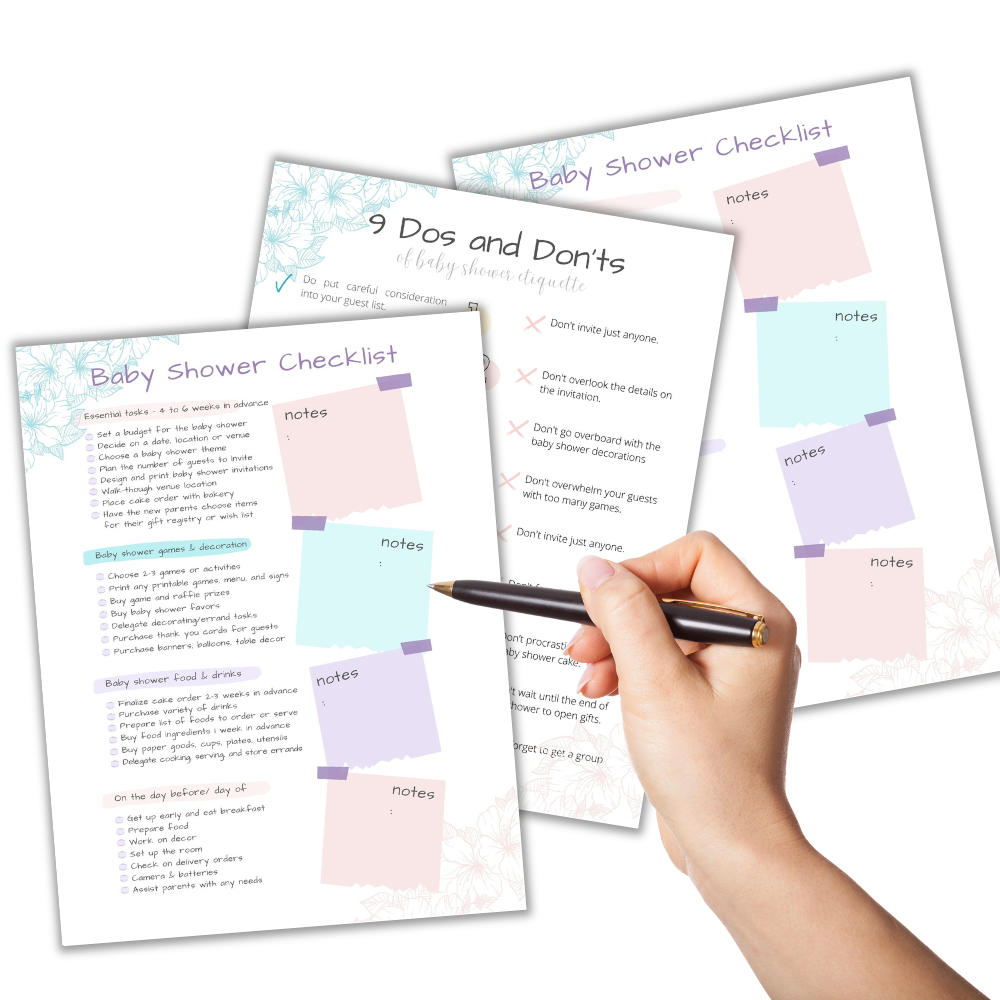 That's all for now, friends! We hope that this article has helped to clear up any hosting questions you may have had about baby shower etiquette.
One last tip, don't worry about perfection on the big day–so what if some things go wrong? Honestly no one will remember anyway. If you follow our advice and put your heart into hosting an amazing party for these new moms (and babies), then everything should turn out just fine in the end 🙂
Don't forget to download your free printable baby shower checklist. Hope this helps. Have fun!